One week until Election Day! Vote early, in person and by mail
October 30, 2018 by Stacy Brannan-Smith / voting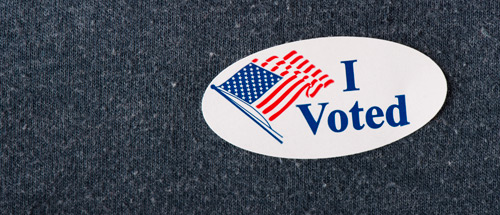 Election Day is one week away! You still have several options if you want to vote early, but deadlines are fast approaching.
Vote early in person - even on Saturday and Sunday!
Every county has an early voting location. You can check with your county board of elections to find out where it is where you live.
Hours for early, in-person voting are extended this week:
8 a.m. to 7 p.m. Wednesday through Friday
8 a.m. to 4 p.m. Saturday
1 to 5 p.m. Sunday
8 a.m. to 2 p.m. Monday
If you need a ride to the polls, you can find some options on our blog from last week. Remember: if you're in line when the early voting location closes, they must let you vote.
Get your absentee ballot postmarked by Monday, November 5
Voting absentee by mail is still an option, but you must submit your absentee ballot application by noon on Saturday. Read more about voting by mail, including the new remote absentee ballot marking tool for voters who are blind or have other print disabilities, on our blog.
If you've received your absentee ballot, make sure you get it filled out and mailed back in time. Absentee ballots must be postmarked on or before Monday, November 5. You or an eligible family member can also drop it off at your county board of elections in person.
There are special voting accommodations available for people who are unexpectedly hospitalized on Election Day. Please call us if you have questions about this process. We will also cover this information in a special blog on Friday.
We're here to help
It can be tricky to navigate the voting process. Disability Rights Ohio's Voter Hotline will be open from 6:30 a.m. to 7:30 p.m. on Election Day at 800-282-9181 to answer your voting questions. Until then, our intake team is also ready to help during our regular business hours.
Make a Donation
Please give. To the best of your ability.