In this issue:
Remembering the Best Stories of 2014

It was a good year for Disability Rights Ohio. Take a look at our biggest cases and best work from 2014.
Parmadale Institute closes after DRO investigation
A months-long investigation and monitoring effort by DRO culminated in the closure of Parmadale Institute, a children's residential facility, in March 2014.
In addition, Cassondra Goodson, a former Parmadale employee, was sentenced to 44 years in prison for inappropriate sexual relationships she had with two teenage girls in her care at the facility.
Related stories:
Cleveland Plain Dealer – Parmadale closes its doors this week to residential treatment of youths; plans to offer drug treatment to adults
Cleveland Plain Dealer - Victims' letters detail pain of ex-Parmadale aide's abuse; judge sends Cassondra Goodson to prison for 44 years
###
Judge orders school district to provide services, supports in Gibson v. Forest Hills School District
For more than four years, Disability Rights Ohio represented Chloe Gibson, a student with autism, a seizure disorder and moderate cognitive impairment. DRO fought to help her actively pursue an education and make progress toward achieving her goal of gaining customized supported employment in an integrated setting after graduation.
As a result of this advocacy, Judge Susan J. Dlott of the United State District Court for the Southern District of Ohio ruled in favor of Chloe Gibson and ordered Forest Hills School District to provide her with a host of individualized services and supports to assist her pursuit of further educational, employment and community living opportunities. See Judge Dlott's Decision here. An appeal of the decision is ongoing.
###
DRO report spurs changes at Rose Mary Center
In March 2014, DRO issued a report on its investigation of Rose Mary Center, an intermediate care facility (ICF) in Cuyahoga County for children and adolescents with developmental disabilities. The report detailed a facility in disrepair, a lack of programming and engagement, and incidents of physical and verbal abuse by staff.
Both the Ohio Department of Health and the Department of Developmental Disabilities (DODD) conducted surveys of the facility, and DODD appointed a 24-hour monitor for approximately three months and suspended Rose Mary Center from accepting new residents for a time.
In the first six months of 2015, Rose Mary Center will move 12 youth to community-based waiver settings. In 2016, the remaining 24 youth will transition into four ICFs with six beds each. In the meantime, the physical environment concerns highlighted in DRO's report have been fixed or have shown improvement. The current Rose Mary Center facility is expected to close by the end of 2016.
###
Doe v. State of Ohio seeks funding, good outcomes for special ed students
In 1993, Ohio Legal Rights Service, now Disability Rights Ohio, joined Doe v. State of Ohio, alleging that funding for special education in Ohio was denying children their federally mandated right to a free and appropriate public education (FAPE). The case was stayed in federal court for many years while broader education funding questions were sorted out in the DeRolph v. Ohio litigation. Now, however, the Doe case is moving forward once again. DRO has been joined in this effort by the Bazelon Center for Mental Health Law and lawyers from the law firm of Steptoe, Johnson, both in Washington D.C. DRO and its partners are gathering information to support their claim that Ohio's system for funding special education denies students with disabilities a FAPE.
DRO is currently collecting stories from parents and guardians about their experiences with the special education system in Ohio. If you have information to share, please call our intake department at 800-282-9181, option 2. Phones are staffed from 9 a.m. to 4 p.m. weekdays, but callers can leave a message 24 hours a day. A new document, Special Education: Doe v. State of Ohio Class Action Lawsuit, answers the mostly commonly asked questions about the case. The document has also been translated into Spanish.
###
DRO seeks systemic change for people with developmental disabilities
After an 18-month investigation into the residential and employment system for people with developmental disabilities in Ohio, Disability Rights Ohio sent a letter to state officials in July, outlining deficiencies that violate the Americans with Disabilities Act by unduly segregating people where they live and in day activities, including work. DRO invited directors Greg Moody of the Governor's Office of Health Transformation, John Martin of the Ohio Department of Developmental Disabilities and John McCarthy of the Ohio Department of Medicaid to enter into negotiations to make needed changes that would give people with disabilities real choice about where they live, work and spend their time. Directors Moody, Martin and McCarthy accepted the invitation and are currently in negotiations with DRO and its partners: the Center for Public Representation; former Department of Justice official Sam Bagenstos; and the Washington, D.C.-based law firm of Sidley, Austin.
DRO's proposals for change have been met with praise by some groups and concern by others. In an effort to involve people with disabilities and their families in the process, DRO teamed up with The Arc of Ohio to hold eight family focus groups around the state in the month of October. A new document, Community Integration: Changing Ohio's Developmental Disabilities System, attempts to address the most common concerns raised in those meetings.
###
DRO, partners work with ODJFS to create new ADA compliance rules
DRO, along with a coalition of legal aid agencies throughout the state, determined that people with disabilities were being denied Ohio Department of Job and Family Services (ODJFS) benefits or were not being given the accommodations they needed under the Ohio Works First financial assistance program in violation of the Americans with Disabilities Act (ADA). DRO, the Ohio Poverty Law Center and other partners worked with ODJFS to draft new statewide rules and a county ADA compliance plan.
During the drafting process, DRO requested several additions that were ultimately incorporated, including more specific definitions of "disability," the use of service animals, and the responsibility counties have to communicate effectively with people in a way that is accessible to them, such as large print, Braille or American Sign Language. The new rules went into effect on October 1, 2014. DRO has created a new document to explain the rights people with disabilities have when working with ODJFS: Community Integration: Getting Help from ODJFS When You Have a Disability.
###
DRO ramps up policy and statewide outreach work
DRO participated in numerous community events and trainings during the year, meeting over 5,000 people in the disability community at 60 different events. In total, DRO averaged about five outreach events or community trainings each month (more than one per week)!
DRO also worked hard to educate and inform Ohio policy makers on many different issues throughout the year. Over the course of the year, DRO staff tracked more than 70 bills and attended dozens of committee hearings to stay on top of the issues that impact people with disabilities. Here is a quick recap of some of the bills that were featured in the Bills to Watch section of this newsletter and some other bills of note:
State Bills
SB 43: Changes the laws around court-ordered outpatient commitment; was enacted on June 4 and was effective on September 17, 2014.
HB 178 (SB 266): Extends rule on restraint and seclusion to community/charter schools; was passed on December 17, 2014.
HB 333: Would have changed and potentially limited how state law claims of discrimination in accessibility and public accommodations are processed. This bill did not pass.
HB 552: Requires that signs with the international symbol of access use forms of the word "accessible" instead of the word "handicapped" or "disabled" whenever words are included on the sign. The bill also requires doctors and other medical staff to provide information on Down syndrome to expecting parents that receive a test indicating a pre- or postnatal diagnosis of Down syndrome. This bill was passed on December 17, 2014, and is waiting for the Governor's signature.
HB 334: Would have allowed school boards to create a faster expulsion process that could have been problematic. This bill did not pass.
SB 349: Would have changed state housing discrimination laws, lowering the penalties for housing discrimination and discouraging housing discrimination lawsuits.This bill did not pass.
HB 624: Would have formally established the rights of people who are under guardianship (known as "wards") in Ohio law. This bill did not pass, but the sponsor has indicated it will be reintroduced in the 131th General Assembly.
Federal Bills
The Convention on the Rights of Persons with Disabilities (CRPD): The CRPD is an international disability treaty that encourages policies of acceptance and equality for people with disabilities, and modeled after the Americans with Disabilities Act (ADA). The CRPD was signed by the United States in 2009 but has not been ratified by the United States Senate, which requires a 2/3 vote of Senators. Senator Sherrod Brown was an early supporter of the treaty, but in spite of unprecedented cooperation and effort by people with disabilities, advocates, business groups, and veterans, sufficient support in the U.S. Senate was never obtained and no ratification vote occurred during the 113th Congress.
HR 647 – Achieving a Better Life Experience (ABLE) Act: This bill will allow individuals with disabilities acquired before age 26 to save money in a special savings account tax-free and without losing some federal benefits. The ABLE Act was signed by the President into law on December 19, 2014.
HR 803 – Workforce Innovation and Opportunity Act (WIOA): This bill continued many parts of the Workforce Investment Act and the Rehabilitation Act, including provisions to protect and promote employment by people with disabilities. WIOA was enacted on July 22, 2014.
HR 3717 – Helping Families in Mental Health Crisis Act:

Among other provisions, this bill would have reduced funding for the Protection and Advocacy for Individuals with Mental Illness (PAIMI) program and limited the ability of Disability Rights Ohio to advocate on of people with psychiatric disabilities. This bill did not pass but is expected to be reintroduced in the 114

th

Congress.

HR 4631 – Autism Collaboration, Accountability, Research, Education and Support (CARES) Act: This bill was enacted August 8, 2014, and continues and adds to federal policies for autism research and support.
Staff Profile: DRO Attorney Kristen Henry leads the charge against abusive, neglectful institutions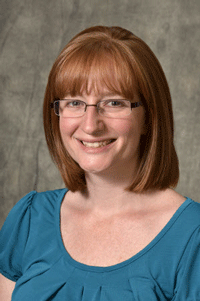 Growing up, people always told DRO Attorney Kristen Henry that she should be a lawyer.
"I was one of those bossy kids in middle school, so I don't think they meant it in a good way," she remembers. "But I always wanted to help people."
She took their words to heart, however, and set her sights on a law degree. Initially, she wanted to work with kids, so she got a certificate in children's law at The Ohio State University, and then did a two-year fellowship representing young people in juvenile prisons.
"In children's law, a lot of people talk about 'what's best for the child,' without necessarily asking the child what he wants for himself," Henry explains. "It's similar to disability law in that way. People don't always ask people with disabilities what they want for their lives, either."
She joined Ohio Legal Rights Service (OLRS, now Disability Rights Ohio) in July 2009, after her fellowship ended. Initially, she did general work, but it wasn't long before she really started enjoying Medicaid cases.
"I enjoyed the direct, positive impact that a successful Medicaid case would have on the clients—keeping their services, getting necessary equipment—in a hearing process that was much faster than litigation," she says.
When OLRS filed the Shreve, et al. v. Franklin County Ohio class action lawsuit in July 2010, Henry was assigned to the team. The lawsuit alleged gratuitous and inappropriate use of Tasers by officers of the Franklin County Sheriff's office against inmates, including many with disabilities. It had some similarities to the work she did in the juvenile prisons, and it prepared her for her current role at DRO as leader of the Abuse and Neglect Team, which investigates reports of abuse and neglect at facilities throughout the state. It's been a busy year for Henry and her staff, which is both heartening and difficult.
"It's a big responsibility for us," she admits. "In a relatively short time, we've had a huge impact, with actions that closed Parmadale and led to big changes at Rose Mary Center, facilities with a history of problems. It's satisfying to know that we have the ability to find problems and fix them. But we also know that there's so much more out there. Ohio has so many institutions, and there are always people who don't know DRO or how to contact us."
In addition to her abuse and neglect investigation work, Henry is also the coordinator for DRO's PAIMI (Protection and Advocacy for Individuals with Mental Illness) program and staffs the PAIMI Advisory Council, which advises Disability Rights Ohio on priorities and issues important to people receiving mental health services in Ohio.
"I love working with the PAIMI Council, they're a good group of people with diverse experiences," she says. "They want to be involved. It's a really good part of my job."
The PAIMI Council currently has 17 members from throughout the state. Several members' terms will end this year, so the council is seeking applicants to fill those soon-to-be-vacant spots, with emphasis on geographic, racial and professional diversity. There is no deadline to apply.
Those interested in serving can apply using the online form or download a PDF of the application and send it to Disability Rights Ohio, 50 W. Broad St., Suite 1400, Columbus, OH 43215-5923.
DRO in the News

House Bill 624, also known as the Wards Bill of Rights, was referred back to committee hours before a scheduled vote on the floor of the Ohio House of Representatives in early December. DRO Executive Director Michael Kirkman is quoted in the article.
Columbus Dispatch – Guardian bill hits wall in Ohio legislature over abortion
---
Editor Matt Hutton of the Ashtabula Star Beacon reports on changes that will impact sheltered workshops in Ashtabula, including DRO's efforts to overhaul the system for people with developmental disabilities. Hutton interviewed DRO Executive Director Michael Kirkman for the story.
Ashtabula Star Beacon - Uncertain future for workshops
Help us keep the victories coming! Donate online to Disability Rights Ohio
We believe people with disabilities should be allowed to participate in the community and have a say in how they live, just like people who live without a disability. There is always more to do, but we need your help.
Disability Rights Ohio can now accept donations via PayPal. You can find the PayPal button on our Donate page. Please consider making a donation yourself or come up with a creative way to raise money for our cause. Thank you so much for your support!