In this issue:
Disability Rights Ohio scores major victory in case of Gibson v. Forest Hills School District

For over four years, Disability Rights Ohio represented Chloe Gibson, a student with autism, a seizure disorder and moderate cognitive impairment, and fought to help her actively pursue an education and make progress toward achieving her goal of gaining customized supported employment in an integrated setting after graduation.
As a result of this advocacy, Judge Susan J. Dlott of the United State District Court for the Southern District of Ohio ruled in favor of Chloe Gibson and ordered Forest Hills School District to provide her with a host of individualized services and supports to assist her pursuit of further educational, employment and community living opportunities. See Judge Dlott's Decision here.
In the ruling, the court referenced Governor Kasich's Executive Order 2012-05K in recognizing that "Ohio law has been changed to reflect a preference that community employment be the IEP goal for all students with disabilities." Ohio's "Employment First" policy was developed with the goal of encouraging more opportunities for individuals with intellectual and developmental disabilities to explore competitive and community based employment possibilities.
Disability Rights Ohio is committed to advocating on behalf of students with disabilities to achieve their educational and community employment goals, and views the ruling in Chloe Gibson's case as an important step towards ensuring that all Ohio students are provided with the proper transition services and individualized assessments to help them prepare to achieve their post-secondary goals and beyond.
Disability Rights Ohio in the News

Disability Rights Ohio Board President Sue Willis was interviewed by Ted Hart of NBC4 as part of an investigative report on individuals who misuse or abuse parking rights provided by an accessible parking placard.
NBC4 Investigates Disability Placards abuse in Ohio - NBC4
Kerstin Sjoberg-Witt, Director of Advocacy and Assistant Executive Director and Barbara Corner, Senior Attorney from Disability Rights Ohio were interviewed as a part of an investigative report examining how individuals with low-vision or blindness are being denied accommodations in Dayton, Ohio.
Access Denied: 2 News Investigates exposes people turning a blind eye to federal law - 2News Investigates
Barbara Corner, Senior Attorney from Disability Rights Ohio explains the struggle to get basic services for individuals with low-vision or blindness in a 2News Investigates Extra full-length interview.
Disability Rights Ohio Lawyer - 2News Investigates Extra
Bills to Watch:
The Keeping All Students Safe Act
Disability Rights Ohio applauds U.S. Senator Tom Harkin's introduction of the Keeping All Students Safe Act, a comprehensive legislative measure aimed at establishing standards and limitations on the use of restraint and seclusion interventions in school settings. Data indicates that students with disabilities experience the traumatizing effects of restraint and seclusion interventions at a disproportionately higher rate than other students. Disability Rights Ohio has successfully represented a number of students with disabilities who have been harmed and traumatized by such interventions, and has advocated at the state level for adoption of Ohio Department of Education rules to implement positive behavioral incentives and supports (PBIS), and limit if not eliminate the use of seclusion and restraint interventions. Disability Rights Ohio is working with members of the Ohio General Assembly on the recently introduced Ohio Senate Bill 266 (discussed in the January 2014 "Bills to Watch"), which would help to address lingering seclusion and restraint policy gaps for Ohio's community (i.e. charter) schools. Disability Rights Ohio is encouraged with the introduction of the Keeping All Students Safe Act, and hopes that it will be a starting point to address the problem of restraint and seclusion in schools.
Additional information and resources from Disability Rights Ohio: Restraint and seclusion in schools
Ohio House Bill 264
The Ohio House Committee on Health and Aging recently reported Ohio House Bill (H.B.) 264, which would clarify the state's requirements for diabetes care in schools. In the past, Disability Rights Ohio has received concerns from parents regarding school districts' policies and practices related to diabetes treatment. In one case, an Ohio school district had an apparent practice of either transferring students with diabetes in need of insulin or glucagon injections to schools with a full time nurse on staff, or requiring the parent to come to school to provide the needed diabetes care. We believe that such a practice, which ignores the individualized needs of students with diabetes and makes no effort to reasonably accommodate the student's needs, violates Title II of the Americans with Disabilities Act and Section 504 of the Rehabilitation Act. The current absence of a state statute that clearly details the responsibilities of school districts and the rights of students with diabetes and their parents appears to result in an uncertainty among school districts about the correct way to approach diabetes care in school. H.B. 264 will help ensure that students are provided safe and appropriate diabetes care with minimal disruption to their education by requiring school districts to meet students' individualized Diabetes care needs. Disability Rights Ohio appreciates the Ohio House of Representative's efforts on H.B. 264 and looks forward to following the bill's progress in the Senate.
Staff Profile: Intake Team Leader John Ramsey brings experience with a listening ear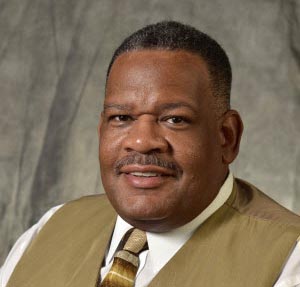 John Ramsey, the Team Leader for Disability Rights Ohio's intake unit, has dedicated his career to working with individuals from all walks of life.
With years of experience working for Child Protective Services before coming to Disability Rights Ohio, Ramsey brought a trained ear responsive to the needs of others. "You work with everybody in life when you work at children services, because if there are children involved somewhere along the line, children services is going to be there if something is going on that shouldn't be going on," he explains.
While earning a degree in social work from Ohio Dominican University, Ramsey worked as an intern at Ohio Legal Rights Service, now Disability Rights Ohio. Around this time, the organization was looking to establish an intake unit to coordinate all the calls and inquiries from the community.
Ramsey was the individual for the job. Since 2006, he has led the intake unit that is now staffed with three intake specialists. "Everything is centralized through the intake unit," Ramsey explains.
The most rewarding part of his work is the return phone call, the call where a client simply wants to show his or her gratitude. As he explains, "When you get those kind of reactions from the clients that we serve, it makes it feel like whatever else you went through that day, it's all worth it."
With his continued work at Disability Rights Ohio, his focus is on improving the intake unit's effectiveness and broadening awareness about its services. For Ramsey, it has always come down to communication and a listening ear. As a voice behind the telephone at Disability Rights Ohio, John Ramsey is someone who has made a difference in the lives of many.
Former Disability Rights Ohio Chief Legal Counsel, Sue Tobin honored by COPAA for Outstanding Advocacy

The Council of Parent Attorneys and Advocates (COPAA) recently announced Sue Tobin as the co-winner of the Diane Lipton Award for Outstanding Advocacy, which recognizes outstanding achievement by members of the special education advocacy community.
Tobin's accomplishments include serving as lead counsel in the class action suit Doe v. State of Ohio, which resulted in a partial class action settlement that improved state compliance with federal law. She also served as lead counsel in a case in which the state of Ohio was prevented from enforcing proposed rules that would eliminate Medicaid reimbursement for medically necessary services for children with autism. Most recently, Tobin spearheaded a statewide effort to curb the use of restraint and seclusion in public schools, which resulted in the creation of a rule to limit such interventions and to promote positive behavioral incentives and supports in public schools. Additionally, Tobin has been involved in efforts to change the due process hearing system in Ohio so as to level the playing field for parents. While at Disability Rights Ohio, the state's Protection and Advocacy system, Tobin was an oft requested speaker, traveling throughout the state to present on disability-related topics.
After completing 32 years of service with Disability Rights Ohio, Sue took her passion and expertise in disability law to the private sector, where she now serves as Vice President, Assistant General Counsel for ADA at JPMorgan Chase.
Upcoming Events

Disability Rights Ohio will be at these upcoming events around the state. Be sure to stop by and say hello!
Dispute Resolution in Special Education Symposium, Moritz College of Law, OSU - February 27, 2014
DD Awareness and Advocacy Day, Ohio Statehouse - March 4, 2014
Tolerance Fair 2014, Cleveland Convention Center - March 9, 2014
People First Conference, Wilmington, Ohio - March 13, 2014
Multiple Perspectives Conference, The Ohio State University - April 16, 2014
Columbus Disability Pride Parade and Festival - April 26, 2014
Cuyahoga County Transition Fair, Cleveland State University Student Center - May 3, 2014
Are you prepared for Tax Season?

Tax season is here! Completing your taxes can be a difficult and time consuming task. Going to professional tax preparers can also be expensive. However, there are several resources available to help you file your taxes. If your household income is $60,000 or less, you can file your state and federal taxes for FREE with The Ohio Benefit Bank. Everyone who files their taxes with the Ohio Benefit Bank is screened for various credits, including the Earned Income Tax Credit, ensuring that you get your maximum refund. You can receive your entire refund in as little as 7-10 days! You can file your taxes for free at ohiobenefits.org. If you need help filing your taxes you can visit the Benefit Bank Locator to find FREE in-person tax filing assistance. You can also call the Ohio Benefit Bank hotline at 1-800-648-1176 and they can help connect you to free assistance in your area.
Disability Rights Ohio has also prepared a fact-sheet listing helpful resources and information for completing your taxes.
Frequently Asked Questions: Completing Your Taxes [PDF]
Help us keep the victories coming! Donate online to Disability Rights Ohio

We believe people with disabilities should be allowed to participate in the community and have a say in how they live, just like people who live without a disability. There is always more to do, but we need your help.
Disability Rights Ohio can now accept donations via PayPal. You can find the PayPal button on our Donate page. Please consider making a donation yourself or come up with a creative way to raise money for our cause. Thank you so much for your support!