News from Disability Rights Ohio is the monthly newsletter from Disability Rights Ohio, providing information and updates about case work and activities of the agency, and other disability-related news.
In This Issue:
With DRO's Help, Veteran Returns to Work after VA Banished Her Service Dog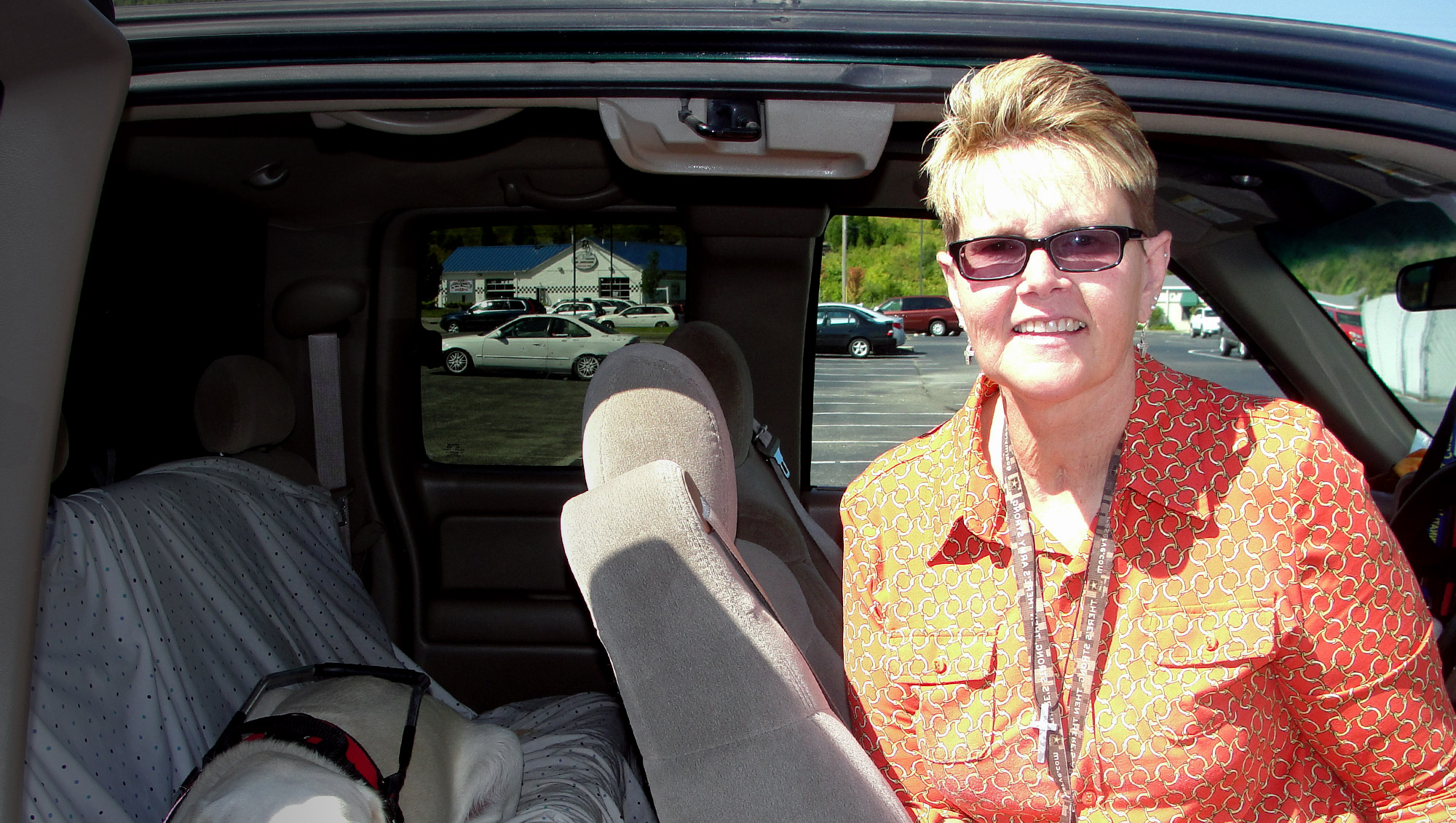 Army veteran Lisa Wilson just wanted to go back to work. But her job with the veterans service organization Disabled American Veterans was located inside the VA Medical Center in Cincinnati, and the center had banished Wilson's service dog, Beau, from the premises.
Beau is trained to help Wilson get up or to get help when she falls, to retrieve items, to provide balance and stability when she walks, and even to pull her in her manual wheelchair, thanks to a special harness. Wilson's disabilities – partial paralysis and traumatic brain injury – make it unsafe for her to lead Beau on a leash, so the dog is outfitted with an electronic collar that Wilson has rarely had reason to use.
Shortly after beginning her work at Disabled American Veterans, the VA informed her of their policy that Beau would not be allowed in the hospital without a short leash. Explaining the situation did not change the VA's decision, so she complied with the request and started using a short leash, even though Beau was not trained to use one.
Beau then began to bark at some people. His barking got him banned from the VA Medical Center.
"No one ever asked me what I thought might have happened, why he barked," Wilson says. "No one offered to work with me to come up with a solution. They just said he couldn't be there."
Without Beau, Wilson had no way to get around safely, so she lost her job, though Disabled American Veterans made it clear that she could return when the problem with the VA was resolved.
"The frustrating part for me was that not only could I not go to work, I was not allowed to come to the hospital for my own primary care," Wilson explains. "That was very stressful. I had to start going to Louisville, Ky., for care, 90 miles away."
Depressed and frustrated, she called Disability Rights Ohio for help.
Disability Rights Ohio Attorney Jason Boylan contacted the VA hospital multiple times in an attempt to work out a solution informally, but the VA refused to modify its leash policy or change its position toward Beau's return. With the help of co-counsel John Marshall, DRO filed a complaint with the U.S. District Court, Southern District of Ohio. Under the pressure of this complaint, the VA eventually agreed to have Beau evaluated, which ultimately showed that he was not a threat.
"He did beautifully in his evaluation, as I always knew he would," Wilson says.
More than a year and a half after Beau was banished from the VA hospital, the VA agreed to allow Lisa to return to the facility with her dog. They awarded her back pay for her time away from work and the cost of additional training for the dog, so he will be officially VA certified. She returned to work December 1, 2014.
"My main goal the whole time was to get back to work, and here I am," she reflects. "I hope my story ends up helping other veterans. This problem is not just a Cincinnati or Ohio problem, it's all over."
Disability Rights Ohio assists veterans with disabilities and military families experiencing disability-related issues, including housing and employment, special education, accessibility and accommodations at work, college and public places.
If you, a family member or friend need assistance in any of these areas, contact our intake unit at 614-466-7264 or 800-282-9181, (TTY) 614-728-2553 or 800-858-3542, option 2, between 9 a.m. to 4 p.m. weekdays. Callers can also leave a message 24 hours a day and someone from DRO will return their call.
DRO Monitoring Changes to Medicaid Income Reporting System

The Ohio Department of Medicaid is using a new automated system to verify the incomes of Medicaid recipients. Unfortunately, hundreds of thousands of people on Medicaid throughout Ohio are at risk of losing their benefits for failing to respond to notifications the state is mailing to these individuals requesting information about their incomes. In early February, the Columbus Dispatch reported that only 45% of the packets had been returned with the requested information. Also, 25% to 30% had been returned to the state as undeliverable, meaning these individuals never even received the notices. Others perhaps did not respond for other reasons. For example, some notifications may not have been provided in a format accessible for those with certain types of disabilities, including people who are blind or have other vision impairments or those with cognitive deficits who may not understand the notices. Also, the notifications were sent only in English, even to people who do not speak English as their first language. People who have not responded are now receiving letters to tell them that their Medicaid benefits will stop.
Ohio's legal aid organizations are working with the state to allow for more time before anyone's benefits are terminated. Disability Rights Ohio is monitoring the situation and will assist if a lawsuit is filed. People with disabilities who are directly affected by this situation should call DRO at 614-466-7264 or 800-282-9181, (TTY) 614-728-2553 or 800-858-3542, option 2.
Bills to Watch: HB 64 – Main Budget Bill

Earlier this month, House Bill (H.B.) 64, Governor Kasich's version of the Main Operating Budget Bill, was introduced in the Ohio General Assembly. Disability Rights Ohio has been busy looking through the large bill to find policy that impacts people with disabilities. Though DRO will be watching every part of the budget bill that might affect people with disabilities, the agency will be paying particular attention to the funding and policy initiatives in the following areas:
Community integration and Department of Developmental Disabilities waiver programs
Medicaid programs for people with disabilities, including changes to provider choice
Education for students with disabilities
Funding and policies to support employment of people with disabilities through Opportunities for Ohioans with Disabilities (OOD)
For a timeline of the budget process and to learn more about the issues DRO is monitoring, visit our budget page.
Disability Advocates Gather at DRO's First Ever Policy Briefing

As the biennial state budget process got underway in early February, Disability Rights Ohio convened its first ever Disability Policy and Advocacy Briefing. More than 70 people from 30 different organizations met in Columbus on February 6 to hear about initiatives outlined in Gov. Kasich's budget and discuss unmet needs in the disability community.
DRO Board member Linda Wetters had the idea for the event as a way to encourage people with disabilities to participate in the dialogue about public policy.
"The idea came from the recognition that, in Ohio, much of the government's role in disability policy has evolved from the state's biennial budget process," she explains. "For example, we have seen actions in budget bills that determine eligibility for services, who provides services and how such services will be paid for. When policy is developed in this way, interested parties must understand the process and become part of it."
DRO staff and leading outside policy advocates led the morning session, which consisted of an overview of the budget timeline and outlines of initiatives included in the proposed budgets of five key agencies: the Ohio Department of Developmental Disabilities, the Ohio Department of Education, the Ohio Department of Medicaid, the Ohio Department of Mental Health and Addiction Services, and Opportunities for Ohioans with Disabilities.
The afternoon session included small group discussions of program areas attendees felt could use more attention, such as better access to transportation services, support for better services in the community, and additional interpreters and state policy representation for the Deaf community. Attendees also agreed upon the importance of collaborating across disabilities to decrease stigma and increase the political presence of all Ohioans with disabilities.
"I personally enjoyed the one to one contact of the small groups," Wetters says. "It seems that we get so busy 'doing' our jobs that we often forget to sit with others and determine where we have mutual interests. It is my experience that the best public policy comes when there are as many people as possible under the same umbrella."
Wetters hopes the event served as a good launch point for disability advocacy in Ohio. She would like to see each person and organization determine the budget issues that are most important to them and also most important to the larger disability community, then turn that knowledge into action.
"Through fact sheets, budget testimony and educational visits to legislators, I'd like to see people and organizations make clear the goals that are important to them. Hopefully, we will continue to have dialogue with each other and work together to achieve our mutual goals. Long range, I am hopeful that a stronger coalition will develop to provide leadership."
Related Documents
Disability Rights Ohio has created a page for its resources related to the Fiscal Year 2016-17 State Budget, including the timeline and department overviews shared at the Disability Policy and Advocacy Briefing, as well as links to important state resources. More information will be added as the budget progresses.
Staff Profile: DRO Communications Specialist Stacy Brannan-Smith Seeks to Educate with Empathy
By DRO Intern Justin Martin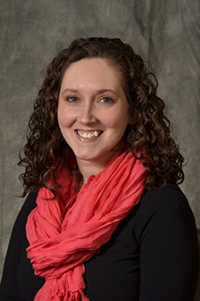 One would expect that Stacy Brannan-Smith, as the Communications Specialist at Disability Rights Ohio, would be outspoken about disability rights. That's not entirely off the mark.
"Things happen all the time that make me ask, 'Why is this still happening in 2015? How are people who use service dogs still getting kicked out of restaurants in 2015?'" says Brannan-Smith, when asked about a typical day at DRO. It's also true that Brannan-Smith feels privileged to be able to use her communication and social media skills to raise awareness about these issues. But spend any amount of time with her and it becomes clear that the skill allowing her to match the demands of her job is not talking, but listening to and absorbing the experiences of people with disabilities.
"I didn't really get into this job specifically because I had an interest in disability policy," says Brannan-Smith, who majored in both English and Comparative Religion at Otterbein University. She credits that unconventional background with fostering an interest in understanding diverse human perspectives. While she felt fortunate to be an employed writer and editor using her skills at places like OhioLINK and Ohio Sea Grant, she never felt truly fulfilled at these jobs.
"I wanted to do something that was for the good of humankind," she admits. "I wanted to do important, civil-rights level work. So, when an opportunity with DRO presented itself in 2012, it was perfect." She enjoyed her new position but immediately felt that she was coming into a world with a depth she'd never suspected.
"You can't work here without really being surprised at the breadth of the issues," she says. "If you are a person who doesn't really have a lot of experience with people with disabilities, as I didn't, you just don't think about the fact that disability issues affect so many different kinds of people."
Brannan-Smith's job includes acting as a conduit between DRO and a news media that often doesn't know a lot about disability issues and policy. "I manage our newsletter and website, oversee social media and do some graphic design to make booklets, fliers, and other materials to get our message out," she explains. "I talk to reporters. If a reporter is doing a story about a disability-related topic, they connect with me so I can set up an interview with one of our experts, or I'll pitch a story to a reporter to get local news coverage on an issue. That's my favorite part of the job, helping to get the word out about the work we do."
By working at DRO and surrounding herself with advocates who have disabilities, Brannan-Smith has come to understand how raising awareness is fundamental to removing the everyday barriers faced by those with disabilities.
The ultimate goal of Disability Rights Ohio, according to her, is simple and supportable: "Our mission is to try to bring about a world where people with disabilities have the same access to everything in life that people who don't have disabilities have," she says. "They shouldn't have to think twice about whether they can go to a store or a restaurant and get in the door, or get an appropriate education, or get accommodations to help them do their job. They should be able to go where they want to go when they want to go. They should be able to live and work in the community with any supports they need, so they can live fulfilling lives."
On a more personal level, Brannan-Smith keeps her work focused on a related goal: making sure that her one-year-old son, Henson, who does not have a disability, grows up in a world where disability is embraced, even if the road to that world is sometimes bumpy.
"My personality is one that is not afraid to say things that need to be said. The trick is finding ways to say them gently so that they can be heard."
Upcoming Event: Transportation Forum

Disability Rights Ohio and Services for Independent Living will host an event, Transportation Forum: Impacting Persons with Disabilities, on Tuesday, March 31 from 9:30 a.m. to 3 p.m. at the Parma-Snow Branch of the Cuyahoga County Public Library, 2111 Snow Road, in Parma, near Cleveland.
Participants will identify issues impacting transportation for people with disabilities, hear about transportation initiatives from the state and community levels, explore options and potential solutions, and discuss next steps to address issues.
Those interested in attending should RSVP by Friday, March 20, to Trina at 216-731-1529 or troddy@sil-oh.org and include their lunch preference: vegetarian roasted veggie, smoked turkey or roasted chicken salad. Requests for accommodations must be made at least one week in advance by contacting Laura at 216-731-1529 or lgold@sil-oh.org.
DRO in the News

The Latino Alliance of Northwest Ohio announced its support of DRO and ABLE's complaint to the U.S. Department of Justice on behalf of Spanish-speaking parents and students.
Toledo Blade – Latino Alliance joins federal complaint against TPS
---
The Ohio Department of Developmental Disabilities announced its plans to close two of its 10 state-run developmental centers in 2017. Disability Rights Ohio submitted written statements to reporters Rita Price at the Columbus Dispatch and Cory Frolik at the Dayton Daily News in response to the news.
Columbus Dispatch – State to close 2 residential centers for developmentally disabled
Dayton Daily News – State to close local center for developmentally disabled
---
Newly introduced Ohio House Bill 50 seeks to protect people under guardianship and give additional support to young adults in the foster care system until they reach age 21. DRO Executive Director Michael Kirkman expresses concerns about some changes in language from the previous version of the bill in this article from reporters Josh Jarman and Rita Price at the Columbus Dispatch.
Columbus Dispatch – Proposed bill would help foster kids and people with guardians
Help us keep the victories coming! Donate online to Disability Rights Ohio
We believe people with disabilities should be allowed to participate in the community and have a say in how they live, just like people who live without a disability. There is always more to do, but we need your help.
Disability Rights Ohio can now accept donations via PayPal. You can find the PayPal button on our Donate page. Please consider making a donation yourself or come up with a creative way to raise money for our cause. Thank you so much for your support!