News from Disability Rights Ohio is the monthly newsletter from Disability Rights Ohio providing information and updates about case work and activities of Disability Rights Ohio, and other disability-related news.
In this issue:
Guide Dog Night Out group gives businesses paws for thought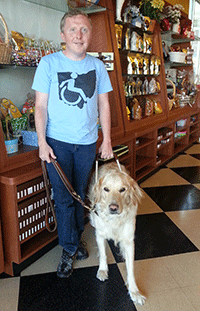 Sometimes adversity is a barrier to enjoying life. But sometimes, adversity inspires action.
Two years ago, Chris Cooley entered a gas station convenience store in Columbus with his service dog, Conrad. The owner of the store tried to physically throw him out, citing a "no dogs allowed" policy. Cooley took him to court, and the case was settled, though without an apology.
Not long after, a dance club in Cincinnati attempted to bar Cooley from entering until a nearby police officer informed them of the law. It was clear to Cooley that people simply do not know the laws regarding service animals in public spaces. He also knew that these barriers often keep people with service animals from getting out into the community, and he wanted to find a way to change that.
"I started thinking, 'How can I help people with service animals, educate them about their rights, help them enjoy their community?'' he recalls. The idea for Guide Dog/Service Dog Night Out was born.
In January 2013, Cooley created a Facebook group and invited people to bring their service dogs for a night at a restaurant in the Columbus area. Only one person attended the first event – a woman who was raising a puppy that would eventually be trained as a guide dog – but Cooley was not dissuaded. A year and a half later, 15 to 20 people attend most outings. They've gone to restaurants and a Columbus Clippers baseball game, with plans to visit the Ohio State Fair and the Columbus Zoo.
The group makes sure to chat with the servers wherever they go. If the waiter or waitress has a dog, they tip with money, a dog biscuit and a water bowl. Cooley hopes that those connections will make people more comfortable with asking questions about service animals or simply getting to know people with disabilities.
Some places, like the Columbus Zoo, see their visit as an opportunity. The zoo is planning to ask the group about their experience and how the park might be improved for people with disabilities.
Cooley also asks local businesses to donate gift cards, which he gives away as door prizes. He sees it as a way for businesses to show their support of the disability community and provide incentive for people with disabilities to venture out to new places.
"I really want to break down the barriers between communities," he says, which is why he has left the Facebook group open to the public. "If you want to come, I want you to come, whether or not you have a guide dog or a disability. I want people to learn about each other."
Cooley hopes the idea catches on. "I'm willing to help other cities start a similar group," he says. "It would be great if people were doing this all over."
-----
The Facebook group can be found at https://www.facebook.com/groups/379879342108458/.
The group's upcoming events include:
July 5 – 7 p.m., Meister's Pub

July 12 – 10 a.m., Goodale Park

July 26 – 9:30 a.m., Ohio State Fair

August 9 – 9:30 a.m., Columbus Zoo (RSVP by July 5)
For more information, contact Chris Cooley at pilot_dog_boddie@yahoo.com.
Misguided policy initiative would usher more individuals with serious psychiatric disabilities into nursing homes

Disability Rights Ohio has raised serious concerns with a recently enacted provision within HB 483 –- a mid-biennial budget review (MBR) bill –- that could run counter to Ohio's obligations under the Americans with Disabilities Act (ADA) and U.S. Supreme Court's decision in Olmstead v L.C.
The provision would authorize a "Nursing Facility Behavioral Health Advisory Workgroup" to develop recommendations for a pilot project that would create up to 1,000 beds for individuals with behavioral health needs. These beds would be in "discrete units" of nursing facilities. The study is also to consider recommendations for enhanced rates for these beds. A report to the General Assembly with any recommendations from the workgroup is due by December 31, 2014.
This workgroup represents a potential threat to the rights of individuals to be served in the most integrated settings appropriate to their needs, as required by law. The U.S. Department of Justice (DOJ) has been very active in enforcing the integration mandate under the ADA. Indeed, a recent settlement by the DOJ in the case of United States v. New York, which challenged the practice of placing people with serious mental illness in large "adult care homes" (similar to nursing facilities in Ohio), emphasized the right of individuals to supported, scattered site housing and individualized mental health services that maximize integration into the individual's community.
There are already thousands of individuals trapped and isolated in behavioral units around the state in violation of the ADA. The notion that Ohio would put more individuals with psychiatric disabilities in segregated nursing facility units not only raises concerns under the ADA, but also under Medicaid Preadmission Screening and Resident Review (PASRR) provisions, which are intended to prohibit the inappropriate nursing facility admissions of people with behavioral health needs. Additionally, under federal law governing "institutions for mental diseases," for which Medicaid funding is unavailable, any attempt to create distinct units for individuals with psychiatric disabilities would likely create the risk that federal Medicaid funding would be disallowed for all of the individual's care.
Our clients tell us, and experts in the field report, that home and community-based services for people with mental illness are more effective, more humane, less costly, and should be expanded. In fact, creation of this work group, a proposal supported by the nursing home industry, represents a sharp departure from accomplishments in this area over the last three years. For example, the state of Ohio, after negotiations with DRO, is set to move 2,000 people with psychiatric disabilities who are illegally segregated in nursing homes to homes with appropriate supports in the community through the Recovery Requires a Community program. HOME Choice, HCBS waivers and other programs have made considerable progress in transitioning people with mental illness out of nursing facilities and into home and community-based settings.
At this time, the workgroup is only tasked with providing recommendations to the state, and there is no actual authorization for the pilot program. However, the pilot program, if implemented, would be a significant step backward in this area, and even to do a study points Ohio in the wrong direction. Follow DRO on Facebook or Twitter for more information on this process going forward, and let the members of the work group know what you think about this. Contact DRO at 800-282-9181 if you would like more information about this issue.
DRO issues comments on proposed changes to Ohio's guardianship system

Disability Rights Ohio has issued comments on the proposed amendments to the Supreme Court of Ohio's rules governing adult guardianships. While commending the long overdue move to put uniform standards in place, DRO voiced numerous concerns about the proposed rules. Chief among the concerns stressed in the comments is that the proposed standards fail to go far enough to protect those subjected to guardianship from abuse, financial exploitation and neglect. The proposed standards are far below both the national standards adopted by the National Guardianship Association, as well as the practices of numerous states.
The Columbus Dispatch quoted DRO's comments in a story published today that outlines the proposed changes and the arguments being made for and against.
The full text of the proposed changes can be found on the Supreme Court of Ohio's website.
DRO planning outreach events to answer healthcare questions

Disability Rights Ohio is an approved Navigator for the Healthcare Marketplace. This means we can provide information and assistance for individuals with disabilities who have questions about their healthcare coverage options and how the new healthcare law impacts them.
We are planning to partner with community organizations to help reach individuals with disabilities. We can answer questions about the Affordable Care Act and help people better understand their different Medicaid options, including Medicaid Spend-down, Medicaid Buy-In and Medicaid Expansion.&nbspIf your organization would like to partner with us to bring this important information to individuals with disabilities in your area, please call us at 800-282-9181. We would love to work with you!
Know your voting rights! Invite DRO to speak to your group

Disability Rights Ohio is planning to partner with community organizations for presentations on voting rights and the voting process. These presentations will cover important topics like registering to vote, your rights as a voter with a disability, how to request an accommodation when voting, an overview of the voting process, and important dates and deadlines for the 2014 election cycle.
If your organization would like to invite us to speak with your members or clients, please call us at 800-282-9181. We would love to work with you to help educate voters!
Conference celebrates 15th anniversary of Olmstead decision

On June 22, 1999, the Supreme Court affirmed in Olmstead v. LC that placing people with disabilities in institutions is discrimination under the Americans with Disabilities Act. The court determined that institutionalization severely limits a person's ability to interact with family and friends, to work and to participate in the life of the community. The decision means that states are required to provide community-based services for people with disabilities if it is what the person wants and community living can be reasonably accommodated.
Disability Rights Ohio celebrated the Olmstead decision at the Independent Living Centers Olmstead Celebration in Warrensville Heights, OH. We were able to celebrate with many other disability advocates including Lois Curtiss, the plaintiff in the Olmstead v. LC decision. Two DRO board members and six DRO staff members attended the conference and worked with advocates, professionals and representatives from the Department of Justice to discuss fair housing, Medicaid, assistive technology, employment, and a variety of other topics. We are proud of the progress we have made and hope to celebrate more community inclusion successes in the future.
Upcoming Events

Disability Rights Ohio will be at these upcoming events around the state. Be sure to stop by and say hello!
Annual Youth Leadership Forum - August 3-7
Bills to Watch:
Ohio House Bill 483 – the Mid-Biennium Review Bill
Governor John Kasich recently signed Ohio House Bill (H.B.) 483, the Mid-Biennium Review (MBR) bill, which included changes to last year's biennial budget appropriations and many policy provisions. During the bill's progress through the House and Senate, DRO followed several important provisions and provided information to members of the Ohio legislature and other state actors. Here are some highlights of the enacted bill:
Adult Protective Services Funding Workgroup

– The bill increases the state fiscal year (FY) 2015 appropriation for Adult Protective Services program by $10.0 million and creates an Adult Protective Services Funding Workgroup to make recommendations about how to distribute these new appropriations.

Residential State Supplement (RSS) Program Funding

– The bill provides an additional $7.5 million in FY 2015 to expand the RSS program which provides financial assistance to adults with low incomes who have a disability and want to live in the community.

Publishing of Ohio Department of Developmental Disabilities (DODD) Facility Surveys

– The bill requires DODD to make surveys of residential facilities and supported living providers and plans of correction available on the DODD website. DODD must also list the laws or rules and citations that have been violated in the survey reports.

Signs with International Symbol of Access

– The bill requires any new or replacement sign with the international symbol of access to use forms of the word "accessible" instead of "handicapped" or "disabled."

Franklin County Guardianship Changes

– The bill expands the possible donors to the Franklin County Probate Court Mental Health Fund and expands the use of the Fund for services for people under guardianships. Part of the Fund is to be used to establish a Franklin County guardianship service through a Franklin County Guardianship Service Board which will receive appointments from the Franklin County Probate Court to serve as guardians of both the person and estate of wards.

Workforce Integration Task Force

– The bill creates the Workforce Integration Task Force with Opportunities for Ohioans with Disabilities (OOD) and Ohio Job and Family Services (JFS) to collect employment data about individuals in Ohio who are deaf or blind. The task force will issue a report with findings and recommendations about how individuals who are deaf or blind in Ohio can be more fully integrated into the workforce.

Nursing Facility Behavioral Health Advisory Workgroup

– The bill creates the Nursing Facility Behavioral Health Advisory Workgroup and requires the Workgroup to develop recommendations for a pilot project to designate up to 1,000 beds in discrete units of nursing facilities to serve individuals with behavioral health needs. Over the summer, DRO will work to educate officials on the possible negative consequences of increasing the number of behavioral health patients treated in nursing facilities.
Ohio Senate Bill 43
Governor Kasich also signed into law an amended version of Senate Bill (S.B.) 43, which expands Ohio's civil commitment law to allow involuntary court-ordered outpatient treatment for individuals with mental illness. S.B. 43 sets forth the process for how probate courts can order involuntary treatment of individuals who meet certain criteria, including risk of non-compliance with treatment, and expansion from the existing law that required that the person pose a present or immediate risk of harm to themselves or others. While in the Senate and the House, interested parties including Disability Rights Ohio, self-advocates, and other advocacy organizations expressed concerns about the possible dangers of increasing the frequency of involuntary commitment orders. In particular, many mental health advocates are concerned with how Ohio's mental health system -- that is already stretched by a lack of resources -- will accommodate the additional burden of involuntary treatment for more Ohioans without any additional funding or resources. DRO will follow the implementation of S.B. 43's provisions in Ohio and will continue to advocate for the rights of individuals with disabilities that are struggling in the mental health system.
Action and results: Case summaries
iPad gives child access to education
A parent contacted Disability Rights Ohio because his 11-year-old child with a developmental disability needed technology to access his education and the school was not providing it.
A disability rights advocate worked with the parent's private advocate and negotiated with the school district to conduct an evaluation for assistive technology. In addition, the parent obtained a private evaluation from an assistive technology consultant at the school's expense. The child received an iPad, which had been identified as the appropriate device to support the child's needs. The IEP now contains the iPad as a necessary assistive technology, and the child has equal access to education through the device.
Client's mail delivered to her door after DRO's involvement
For several years, an individual had her mail delivered to a mailbox by her front door as an accommodation for her disability. When her regular mail carrier went on medical leave, one of the substitute mail carriers refused to deliver her mail to her front door. The carrier instead left a form on her porch stating her mailbox was against regulation, and mail carriers are not required to get out of their carts. The individual tried to advocate for herself but had been unsuccessful and requested DRO assistance in maintaining her accommodation.
A disability rights attorney reached out to the postmaster of the local office and discussed the accommodation issue. The postmaster intervened and the client reported the matter was resolved.
New parking spaces make rec center accessible
For several years an individual with physical impairments had difficulty getting from her car to the entrance of a local rec center because the accessible parking spaces were located at the back of the lot, furthest from the entrance to the building. She contacted Disability Rights Ohio to see if this was legal and if anything could be done to make getting into the facility more accessible.
With permission from the client, a disability rights attorney contacted the director of the facility and discussed the Americans with Disabilities Act (ADA). The attorney sent information to the director and made a request that they put the accessible parking spots close to the building instead of at the back of the parking lot.
The facility director consulted with a building expert and was told that indeed, the spaces, as they were, were out of compliance with the ADA. The spaces were not in the proper area and lacked proper signage. The facility designated parking spots near the front entrance and now they are accessible for people with disabilities.
Client is college-bound with assistance from DRO
A client is looking forward to his return to college as part of his employment goals. He had been working with his Bureau of Vocational Rehabilitation (BVR) counselor to plan his return to college and had just selected a program and a university to attend. Unfortunately, he then received an email from his counselor informing him that he didn't meet the qualifications of a college student, and BVR would not provide funding for college. The client contacted DRO to receive assistance in appealing BVR's denial of services.
A disability rights attorney reviewed the client's BVR file and with the client's permission, contacted the BVR counselor and supervisor. They successfully negotiated an agreement for BVR to support the client in attending the post-secondary school of his choice. The client is eager to begin his classes next month.
Court-appointed reader helps client prepare for trial
A client had been requesting accommodations from his attorney for months, but it wasn't until DRO got involved that the individual with a visual impairment received the accommodation. He now has a court-appointed reader to access the information in the documents his attorney provided but did not make accessible to him.
The client is currently in prison awaiting trial. He wanted to read his legal documents and discovery evidence in order to prepare himself for trial, but he is unable to read printed text because of his disability. DRO spoke with his defense attorney and provided information and options to help the attorney fulfill his obligation to provide materials in a form that his client can comprehend. The disability rights attorney encouraged the court-appointed attorney to discuss accommodation options with the client. As a result, the court-appointed reader was provided for the client.
The client reports the court-appointed reader has been a big help and has allowed him to study and understand a great deal of useful information from his court documents.
Help us keep the victories coming! Donate online to Disability Rights Ohio

We believe people with disabilities should be allowed to participate in the community and have a say in how they live, just like people who live without a disability. There is always more to do, but we need your help.
Disability Rights Ohio can now accept donations via PayPal. You can find the PayPal button on our Donate page. Please consider making a donation yourself or come up with a creative way to raise money for our cause. Thank you so much for your support!