News from Disability Rights Ohio is the monthly newsletter from Disability Rights Ohio, providing information and updates about case work and activities of the agency, and other disability-related news.
In This Issue:
Comment on DRO's work on behalf of individuals with mental illness
Public Forum Notice: We want to hear from you!
On May 5-7, 2015, representatives from the United States Department of Health and Human Services, Substance Abuse and Mental Health Services Administration (SAMHSA), Center for Mental Health Services (CMHS), Protection and Advocacy for Individuals with Mental Illness (PAIMI) Program will visit Disability Rights Ohio, the Protection and Advocacy (P&A) System for the State of Ohio, in Columbus.
SAMHSA/CMHS invites you to send written comments about the PAIMI Program services and activities conducted by Disability Rights Ohio.
Please send your comments to SAMHSA/CMHS by e-mail to PAIMI@samhsa.hhs.gov or mail to:
ATTENTION: The PAIMI Program Coordinator
SAMHSA/CMHS
1 Choke Cherry Road, Room 2-1105
Rockville, Maryland 20857
View a PDF version of this notice
Governor proposes changes affecting independent providers of home care

Many people with disabilities receive home and community-based services (for example, a personal care aide, a home health aide, or a nurse) through Medicaid, which allow them to receive the support they need in the community and to avoid unnecessary institutionalization.
Generally, under the current system, a person may choose one of two types of providers: an agency provider or an independent provider. An agency provider is a company that has employees who are sent to the person's home to provide services, and an independent provider is an individual worker who provides services directly.
Because of changes in federal labor laws, the governor's FY 2016-17 state budget proposes major reforms to this system. Under the proposal, the state, beginning on July 1, 2016, would begin to phase-out Medicaid payments to independent providers. Ohio Medicaid would not accept any new independent providers after this date, and those independent providers whose certification is expiring would not have the chance for renewal. By July 1, 2019, Ohio Medicaid will accept claims only from agency providers.
There is an important exception to these proposed changes. A person would still be able to choose an independent provider if he or she is enrolled in a "self-directed" (also known as "participant-direct" or "consumer-directed") waiver program. This means that the person directly manages his or her budget and the services he or she receives, including hiring, supervising, and directing the individuals who provide services and negotiating payment rates to these individuals.
Right now, only the SELF waiver, the PASSPORT waiver, and MyCare Ohio have self-directed options, but state officials have indicated that they will ask the federal government to have this option available for all waiver programs.
Since the governor's proposal was announced, many people have called DRO with concerns about losing access to providers whom they trust and with whom they have developed strong, close relationships. DRO joined other disability advocates in testifying against including the phase-out of the independent providers in the state budget bill during the Ohio House of Representatives Health and Human Services Subcommittee hearing in mid-March. DRO is reviewing and monitoring the issue and working with its coalition partners to better understand the initiative and how it would affect people with disabilities. In the meantime, the following resources may be helpful:
The Ohio House of Representatives may make changes to the independent provider phase out in the next version of the budget bill, which is likely to be announced in mid-April. Individuals interested in learning more about the state budget process or this specific issue or are interested in further discussions can contact their state legislators:
Related news:
Columbus Dispatch – State liability drives plan to phase out independents
New DRO Report Examines ODE's Restraint, Seclusion Data

Based on advocacy efforts by Disability Rights Ohio and a host of other stakeholders, including the ACLU of Ohio and parents and students with disabilities, the Ohio Department of Education (ODE) adopted Rule 3301-35-15: Standards for the implementation of positive behavior intervention supports and the use of restraint and seclusion. This rule governs the use of restraint and seclusion in Ohio's public schools starting in the 2013-14 school year. In 2014 the Ohio General Assembly expanded the rule to include a host of other school settings, including community or charter schools, beginning in the 2015-16 school year.
As part of the rule, school districts must submit restraint and seclusion data to ODE as part of an effort to make the use of these aversive interventions more transparent to the public. Accordingly, Disability Rights Ohio has analyzed the 2013-14 school district data submitted to ODE and created a new report, which outlines deficiencies in the data reporting, highlights matters for further review, and offers suggestions going forward.
View the report:
The State of Restraint and Seclusion in Ohio: An Analysis of Data from Ohio's Public Schools
Staff Profile: DRO Clerical Assistant Tara Cline finds satisfaction in going back to work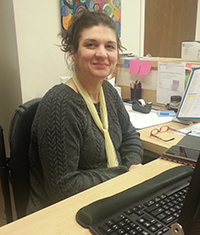 Disability Rights Ohio Clerical Assistant Tara Cline was very nervous about coming back to the workforce after 19 years away. But after her divorce, she knew she needed to make some money and find a sense of purpose, so she pushed aside her concerns and started working with the Bureau of Vocational Rehabilitation (BVR) to find a job.
Cline's biggest worries were related to her disability, Friedreich's ataxia, a type of muscular dystrophy.
"I move a little more slowly and have no balance or coordination, so it takes me longer to do things," she says. "I wondered if anyone would want me to work for them."
Through the BVR process, she started to fill out employment applications. After an interview for a part-time Clerical Assistant position at DRO, she was hired in April 2014 to work 20 hours per week. As part of DRO's Clerical Team, she creates and mails opening letters for new cases and has recently been approved to do work for the Work Incentives Planning and Assistance (WIPA) program.
"I like it here a lot," she says. "Everyone wants to know what they can do to make things easier for me. I like not being stuck at home, getting to be around people and making friends. It's also given me a sense of confidence and accomplishment. I had been told for so long that I couldn't do things. Being able to work has made me realize, 'Hey, I can do this. Yeah, it takes me longer, but I can do it.' "
As for many people with disabilities, transportation is really hard for Cline. She uses the Central Ohio Transit Authority's Project Mainstream, which picks her up at 6:20 a.m. to be at work by 8 a.m. It makes for an early morning for someone who needs extra time to get ready for the day. Still, she's proud to have navigated a situation that initially caused her so much worry.
"I had no idea where to start," she recalls. "But I figured it out. If anyone is thinking about going to work but finds themselves hesitating, I'd tell them this: If I can do it, anyone can do it. It's definitely worth it."
DRO in the News

ABC 6 Reporter Brooks Jarosz interviewed Robert and Mary Hall about their sons, Mandale and Eric, who live in the community with support. The story is a good example that even those with significant medical needs can live integrated lives.
ABC 6 Columbus – Expanding Rights for Disabled; Debates Over System Fix
---
Hamilton County is countersuing the widow of Gary Roell Sr., who was killed by deputies during a situation related to his mental illness. DRO Attorney Kristen Henry is quoted in this story by Reporter Dan Horn.
Cincinnati Enquirer – County blames widow in death after Tasing, not deputies
Read DRO's joint statement on the case with NAMI Urban Greater Cincinnati Network on Mental Illness.
---
Disability Rights Ohio Executive Director Michael Kirkman testified in the House Finance Subcommittee on Health and Human Services on the pending state budget bill. The front page of the Columbus Dispatch included photographs of Kirkman and DRO Intern Justin Martin, who also testified on his own behalf.
Columbus Dispatch – Disabled plead Ohio lawmakers for 'just world'
---
Families of individuals who work at TAC Enterprises in Springfield held a rally to protest efforts they feel will lead to the closure of the sheltered workshop. DRO Executive Director Michael Kirkman is quoted in this story by Reporter Allison Wichie.
Springfield News-Sun – Protesters fear TAC closure with proposed disability service changes
---
A woman who uses a wheelchair wrote to the Answer Man in the Marion Star to find out more about her rights when a building is inaccessible. DRO Attorney Kevin Truitt discusses the Americans with Disabilities Act.
Marion Star - Answer Man: Disabled have accessibility advocate
Upcoming Events: Tech II
Tech II: Technology Toward Employment, May 13-14, 2015, Hyatt Regency, Columbus
This two-day conference will build on last year's successful technology conference that focused only on tablets. Tech II will present all types of assistive technology that can help people with disabilities get or keep a job—and will emphasize evaluation, funding and training.
Tech II will include: hands-on exhibits, break-out sessions, and opportunities to talk one-on-one with assistive technology experts. The registration fee is $150.
Financial assistance and scholarships are available on a limited first-come, first served basis.
Tech II is being sponsored by the Ohio Developmental Disabilities Council, the Ohio Statewide Independent Living Council, the Ohio Department of Developmental Disabilities, the Ohio Association of County Boards of DD, Disability Rights Ohio, the Ohio Olmstead Task Force and Caresource.
To register for the conference go to: http://www.cvent.com/d/4rqmq2. For updates on the conference go to: https://www.facebook.com/DDCouncilTechConference .
Bills to Watch:
Ohio House Bill 64 – The Main Operating Budget
Michael Kirkman, Executive Director of Disability Rights Ohio, testified in the House Finance Subcommittee on Health and Human Services on the pending state main operating budget bill, H.B. (House Bill) 64. He addressed several issues of interest to the disability community, including community integration for individuals with developmental disabilities, access to independent providers, access to mental health services, and employment. The House of Representatives is still considering H.B. 64 in committee, and DRO will carefully watch the changes that are made during this process. For more information on the budget process, check out DRO's State Budget Resources page, including its Ohio Budget Process Timeline document.
Ohio Senate Bill 112
Ohio Senator Peggy Lehner recently introduced Senate Bill (S.B.) 112, which would require new public community buildings to have an area with an adult changing station for adults with disabilities that need toileting assistance. These changing stations would make it possible for adults with disabilities to spend more time at community venues and participate in more community events. Disability Rights Ohio believes that the bill follows in the spirit of the Americans with Disabilities Act (ADA) and would lead to improved access and community integration for individuals with disabilities. We look forward to following this bill as it progresses through the legislature.
Client Advocacy Outcomes
DRO advocacy helps college student keep her assistance animal at home
A college student requested approval from her landlord to have her assistance animal with her in the home she rented with a group of other tenants. In response to her request, the landlord required her to sign a lease addendum which, among other things, required her to get 28 signatures from all other tenants and their parents and submit up-front cleaning fees for de-fleaing and carpet cleaning. The student contacted DRO to inquire about her right to request an accommodation to have the assistance animal live with her without having to meet all lease addendum requirements.
A disability rights attorney reviewed the client's documentation of her disability and provided advice and counsel regarding ADA accommodations. He also contacted the landlord's attorney and explained the law in regards to reasonable accommodations and the client's rights. After multiple conversations with the landlord's attorney, the landlord finally agreed to allow the client to have her assistance animal, since the client had provided a support letter from a medical professional documenting how the dog helps her with the symptoms of her disability.
---
Client's flexible nursing care maintained after DRO steps in
A client contacted DRO for assistance regarding her nursing services under the Ohio Home Care Waiver program. The agency providing case management services had changed recently, and her new case manager told her that she could no longer submit weekly or monthly changes to her nursing hours, something she had always been able to do in the past. The case manager provided the client a CAR (Consumer Acknowledgment of Responsibility) stating that she must agree to submit a set daily schedule for nursing services, with a possible consequence of disenrollment if she refused. The client sought DRO's assistance in resolving this issue so she could continue to use her hours as needed to ensure her health and safety.
The disability rights attorney assigned to the client's case conducted legal research, provided information and advice, and contacted the Department of Medicaid on the client's behalf to advocate for the necessary flexibility in services.
Subsequently, the client's case manager agreed to update her All Services Plan to allow for flexibility of hours and sent her plan to the Department of Medicaid for approval. The plan was approved. Now the client will continue to have flexible hours that will better meet her needs, without the threat of losing her waiver.
---
With DRO's help, client can continue independent provider services
An individual was notified that he would be disenrolled from his waiver because he was using an independent nurse rather than nursing provided through a Medicare–certified home-health agency.
The individual had tried to find and use agency providers, but they could not staff the hours that he needed or provide effective care. He wanted to utilize his independent provider due to quality and continuity of care. After receiving written notice of his disenrollment from the Ohio Home Care waiver, he promptly submitted an appeal. However, several weeks later he was told the appeal was not received, and he would be disenrolled. He sought assistance from DRO to obtain a "continuation of benefits" until the appeal was decided and also assistance with his Medicaid state hearing.
The disability rights attorney assigned to the case spoke with the client, reviewed his appeal documents and conducted legal research. She contacted the Bureau of State Hearings and Department of Medicaid on the client's behalf to request that they process client's appeal request in a timely manner and continue his benefits through the state hearing decision. Thanks to the self-advocacy information the attorney provided to the client, the hearing was a success, and the client's benefits were reinstated. The client continues to receive Ohio Home Care waiver services from his independent nurse.
Help us keep the victories coming! Donate online to Disability Rights Ohio
We believe people with disabilities should be allowed to participate in the community and have a say in how they live, just like people who live without a disability. There is always more to do, but we need your help.
Disability Rights Ohio can now accept donations via PayPal. You can find the PayPal button on our Donate page. Please consider making a donation yourself or come up with a creative way to raise money for our cause. Thank you so much for your support!