In this issue:
Disability Rights Ohio makes difficult decision as possible federal shutdown looms

Because Disability Rights Ohio is concerned about the possible federal government shutdown on October 1, 2013, and unavailability of additional funding for the upcoming year, we will be forced to manage our remaining funds in a conservative and efficient way.
Starting immediately and until the situation in Congress is resolved, for all new requests for assistance, we will only be providing information on a person's rights and tools to advocate for him- or herself and referring to other resources. Exceptions will be made when a person's immediate health and safety are at risk. We will continue to work on matters we have already accepted.
To get more information about the possible government shutdown or to express your opinions about how it might affect people with disabilities, search for your federal representatives and their contact information at the following links:
U.S. House of Representatives: http://www.house.gov/representatives/find/; and
U.S. Senate: http://www.senate.gov/general/contact_information/senators_cfm.cfm
You can also call the United States Capitol switchboard at (202) 224-3121. An operator will connect you directly with the office you request.
Thank you for your patience and understanding during this difficult time. We hope Congress can reach an agreement to fund the federal government and the many important programs that provide protection and supports to people with disabilities throughout Ohio.
WIPA program counsels Social Security Disability recipients who want to work
Disability Rights Ohio is again providing benefits counseling, a free service available to people who receive Social Security benefits because of a disability, through the Social Security Administration's Work Incentives Planning and Assistance (WIPA) program. The Social Security Administration offers "work incentives" designed to help people transition from receiving disability checks to earning money through work. Benefits counseling has the goal of reducing or eliminating a person's dependence on public benefits, while addressing their concerns about issues, such as continuing health care benefits. Certified Work Incentive Coordinators (CWICs) provide individualized counseling to help people use these work incentives and understand their impact on the person's employment.
Disability Rights Ohio administers the WIPA program in 31 of Ohio's 88 counties, as shown in the pink area of this map. Two other agencies oversee WIPA programs in other counties.
For more information, please contact the Disability Rights Ohio intake department at 800.282.9181, TTY 614.728.2553, Monday through Friday between 9 a.m. and 4 p.m.
Patrick Meehan brings go-getter attitude to Disability Rights Ohio office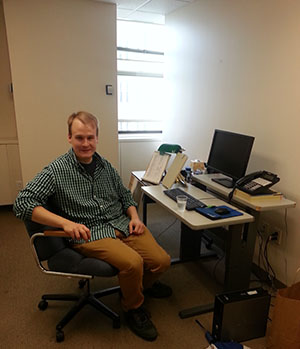 If you ask Patrick Meehan what his favorite job is in the Disability Rights Ohio office, he says, "It's all good because it has to be done somehow, but I really enjoy filing." In his new job as office assistant, Meehan files, sorts and performs light housekeeping duties, and he hopes that over time he'll have the opportunity to take on more responsibilities.
This go-getter attitude comes from Meehan's drive to constantly improve himself. There's one other thing he wants everyone to know: "I have Asperger's disorder, which is something that shouldn't be cured. We just need to teach people to live to their potential."
As an advocate for the disorder, Meehan has spoken at conferences and appeared on NBC4 Columbus' series The Autism Puzzle. He hopes that his position at Disability Rights Ohio will give him more opportunities to help educate and even inspire people. "Life has made pitfalls," he says, "but you're going to get over them and master them."
Patrick came to our office through the ARC Industries Job Placement Division, which works to place individuals with disabilities into competitive community employment. After speaking with DRO Human Resources Director Jim Downey, ARC looked for a candidate with interests that would fit well in an office environment.
After submitting his resume and interviewing for the position, he started September 3, working with a job coach, who supports him with on-the-job training. The coach will maintain contact with Patrick and DRO for as long as he works in the office.
"Patrick's attention to detail and dedication to his work really shows," explains Downey. "I have been so pleased to see how clean and organized our conference rooms are. I know we're all looking forward to seeing how Patrick continues to improve our office."
If you are an employer interested in working with ARC Industries, contact Jackie Morrow at Jacqueline.Morrow@fcbdd.org.
U.S. Department of Education says Ohio must cover autism services for young children

The U.S. Department of Education has notified the state of Ohio that it must provide early intervention services for young children with autism, including applied behavioral analysis.
Disability Rights Ohio Executive Director Michael Kirkman commented in an interview with NBC 4 news in Columbus.
Murphy Vetter featured in story about his improvement since DRO's PLEAS settlement

Murphy Vetter was one of 123 children in the lawsuit Disability Rights Ohio brought on behalf of the Parents League for Effective Autism Services (PLEAS) against the Ohio Department of Mental Health and the Department of Job and Family Services in 2008. The case was settled in 2011.
According to Kerstin Sjoberg-Witt, legal director for Disability Rights Ohio, in a story by Alan Johnson in the Saturday, September 14, 2013, edition of The Columbus Dispatch:
The settlement covered 123 youngsters, including Murphy, who can receive all necessary treatment for which they qualify under Medicaid. Other youngsters are limited to 104 hours per year — two hours a week — unless they obtain prior approval.

"Overall, it's a big improvement to no access at all," Sjoberg-Witt said. "There's still an enormous gap for kids with autism to get the treatment they need to see improvement."
Now 11 years old, Murphy is the first child with special needs to play football for the Olentangy Youth Athletic Association, an extracurricular sports league in the Olentangy Local School District.
Read more about Murphy and the strides he's made in the Dispatch article: Football one step on journey toward 'normal' for one special needs boy
Voter registration deadline October 7

The deadline to register to vote for Ohio's November 5 elections is October 7.
You can change your address or request a voter registration card on the Secretary of State's website.
Action and results: Case summaries
DRO advocate helps client find short-term care solution
An individual with a physical disability contacted DRO because she was being discharged from the facility where she was receiving rehabilitative services back to her apartment in the community. However, she had a gap in her services because she wanted to be discharged from the facility on a Friday and the facility had a plan in place for a Sunday discharge.
A DRO advocate got involved, contacting several community providers to seek available staff coverage for the client and was able to help the client resolve her situation. The client was able to find temporary home healthcare staff to assist her until her permanent staff was in place 48 hours later. The client continues to reside in the community with appropriate care services.
Garbage company agrees to trash pickup accommodation
An individual with physical disabilities lives in an area that recently switched to using large garbage cans on wheels. She was unable to move the cans due to her disability, and she contacted the township where she lives to request an accommodation to have the cans picked up at her house. The township granted her request, but the garbage company disagreed, saying they only provide service at the street level. The client contacted DRO for assistance in receiving an accommodation for her disability.
A DRO advocate contacted the individual and, with her permission, contacted the company providing the refuse service to negotiate for the accommodation on behalf of the client. The advocate was successful; the company agreed to allow the client to take small bags of trash to the end of the driveway, using a small tractor that she owns. The client reported her trash collection is going well with the accommodation.
Parents win waiver services for medically fragile baby boy
A baby now has the 24–hour care he needs for his disability, but initially he was in danger of institutionalization because his parents were denied their request for the Ohio Home Care waiver.
The client was less than a year old and had multiple diagnoses, including muscular dystrophy, which resulted in low muscle strength such that he couldn't sit upright without experiencing life-threatening respiratory distress. As a result, the client needed 24-hour supervision, and his doctors prescribed intensive rehabilitative and nursing services. The state initially believed the client did not have an unstable medical condition despite documentation from his doctors stating otherwise. His parents contacted us for assistance in getting their child on the waiver.
A DRO attorney represented the client in a state hearing and administrative appeal on this issue, and the administrative appeal officers held that client's medically fragile condition resulted in an unstable medical condition, ordering the state to enroll the client on the Ohio Home Care Waiver. The child remains in his home with appropriate medical care and services.
Help us keep the victories coming! Donate online to Disability Rights Ohio

We believe people with disabilities should be allowed to participate in the community and have a say in how they live, just like people who live without a disability. There is always more to do, but we need your help.
Disability Rights Ohio can now accept donations via PayPal. You can find the PayPal button on our Donate page. Please consider making a donation yourself or come up with a creative way to raise money for our cause. Thank you so much for your support!