#AdvocacyMatters: Making Connections
June 10, 2022
The pleas of those seeking support and understanding are lost if only shouted into the void. It isn't just the message that is critical in advocacy: You need someone across the table and listening. In a society where barriers sprout up between marginalized communities and those in power – both by indifference and by design – it can be incredibly difficult to get the ear and the attention of those able to make changes.
Last month, DRO's Community Engagement Coordinator was able to partner with the Ohio Olmstead Task Force to put on an Advocacy Day at the Statehouse. Through this event, more than 25 Ohioans with disabilities, direct care workers, and centers for independent living staff were able to meet with 31 different legislators or their aides and Governor DeWine's Assistant Policy Director of the Health and Human Services Office.
In these meetings, advocates spoke with legislators about the direct care workforce crisis. The shortage of direct care workers is one of the biggest barriers to independent living. Advocates were able to both impress the severity of the crisis by sharing their own experiences with difficulty finding and retaining care, and present recommendations for concrete actions legislators could take to solve the systemic issues.
Lisa Marn, Personal Care Assistant and Long Term Services and Supports coordinator at Services for Independent Living, spoke about the way personal experience drives people to take action.
"I am motivated to do legislative work on two levels," Marn said. "First, I use these services myself and it impacts my life. Second and more importantly, I serve over 30 consumers in northeast Ohio who use direct care staff and I am constantly hearing horror stories about direct care staffing issues. These issues and my own fears of not having care for my fiancée and I have caused great anxiety and sleepless nights. I want to be part of the solution and not just sit in Zoom meetings talking about the issues."
"Emails and calls to Legislators are important but I feel being there in person provides such an important impact. They can't help but see us and pay attention," advocate Jennifer Kucera shared with us. It was Kucera's first visit to the Statehouse, but it won't be her last. "People in wheelchairs don't really ever blend into a crowd! It is so very important that we keep showing up in groups to the Statehouse to show them that we mean what we say, 'Nothing About Us, Without Us!'"
"In order to make any significant policy change we must get out there and give the legislators an experience," Maria Matzik, Education and Advocacy Specialist at the Access Center for Independent Living, echoed. "The legislators need to see us, not just hear us. It's harder to tune us out in person."
While small in numbers, this opportunity to bridge the gap between legislators and those they're charged with representing has the potential to be big in impact. Not just a standalone exercise, this type of community engagement and advocacy is a critical part of our way forward.
As for next steps, DRO's Community Engagement Coordinator will partner with the Ohio Olmstead Task Force to arrange in-district meetings between legislators and advocates – continuing to build on the relationships born at the Statehouse.
"People with disabilities have the knowledge, experience, and ideas to inform needed policy changes, and the drive to do whatever it takes to make those changes happen," said Community Engagement Coordinator, Alexia Kemerling. "Because of that we will continue to show up - and show up loudly - whether we're given a 'seat at the table' or not."
Because our #AdvocacyMatters, we'll continue to support empowerment and access for those working for change.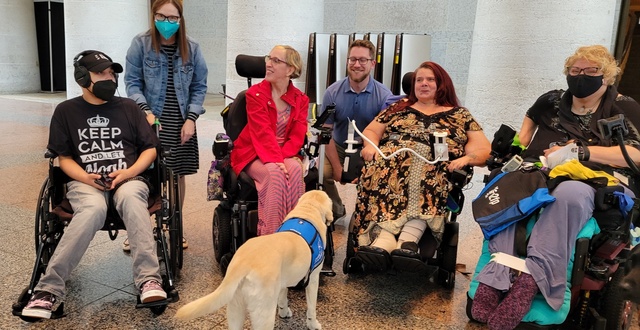 One of the group photos of advocates at the Statehouse. ID: Six people are posed together in a line, four with wheelchairs and 2 kneeling down, with smiles on their faces. A service dog, Tahiti is also seen in the front of the photo facing his owner. From left to right is Noah Sweeney, Theresa Sweeney, Lisa Marn, Patrick Ober, Jennifer Kucera, and Maria Sutter.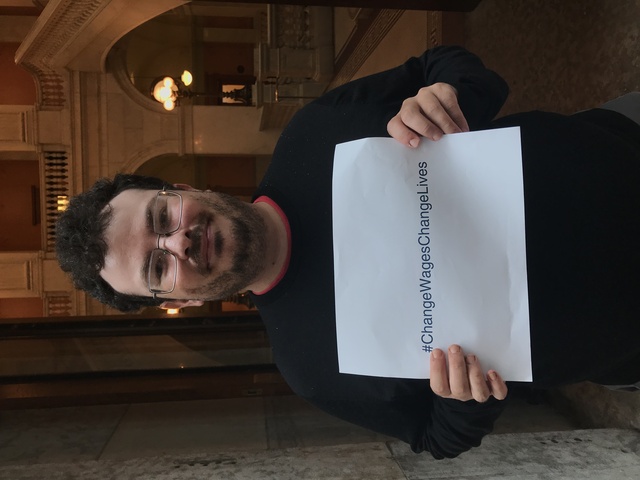 ID: Jason Harris, with rectangle glasses, a black shirt, and curly black hair, holds a sign that says #ChangeWagesChangeLives"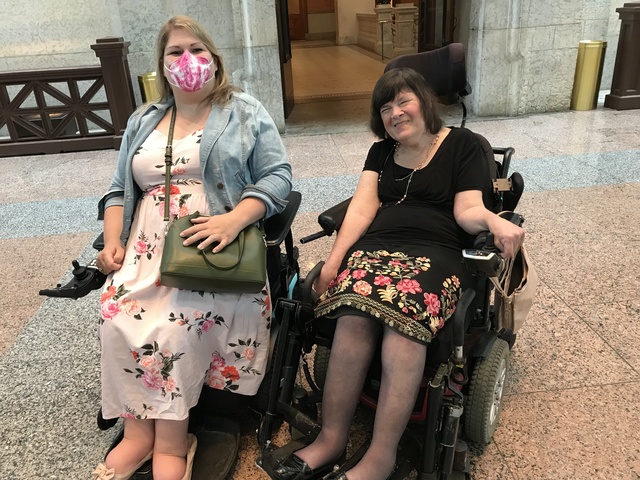 ID: Katie Shelley and Renee Wood, both wheelchair users in floral dresses, pose together.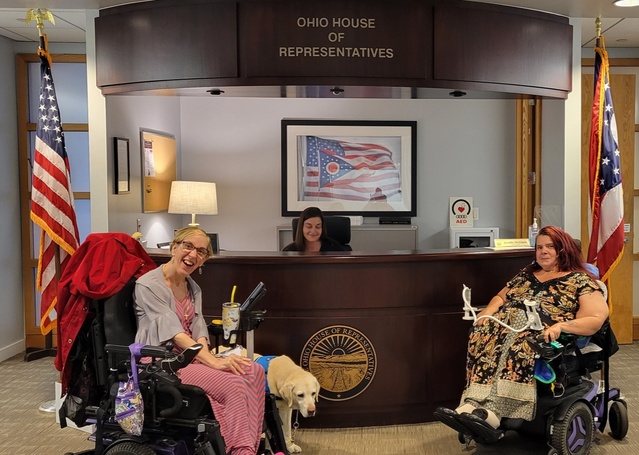 ID: Lisa Marn, a wheelchair user with Services for Independent Living in a pink dress poses on the left with her service dog, Tahiti. Jennifer Kucera, a wheelchair user in a black dress poses on the right. They both are in front of the Ohio House of Representatives.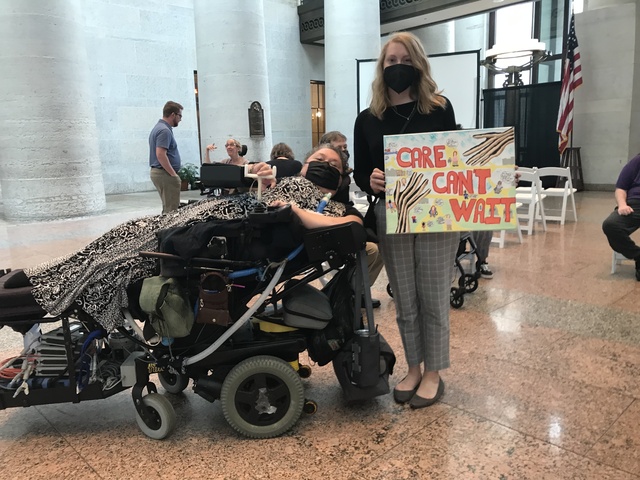 ID: Maria Matzik is in reclining wheelchair and is wearing a black patterned dress and a black mask. Maria is with the Access Center for Independent Living, and is posed on the left. Alexia Kemerling, with Disability Rights Ohio, has blonde hair and is wearing grey slacks with a black shirt and a black mask. She poses on the right next to Maria. Alexia holds Alicia Hopkin's artwork, which says "Care Can't Wait" in red letters.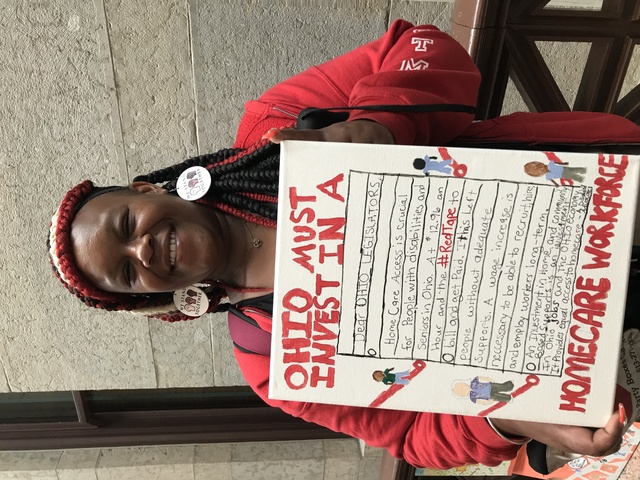 ID: Tracey Mosby, wearing a red jacket and and red and white braids smiles while holding a piece of artwork also created by Alicia Hopkins - that depicts the direct care worker crisis. The art says "Ohio Must Invest In A Homecare Workforce" and has a letter.
The letter in the art piece, says "Dear Ohio Legislators, Home Care Access is crucial for people with disabilties and seniors in Ohio. At $12.96 an hour and the #RedTape to bill and get paid. This left people without adequate supports. A wage increase is necessary to be able to recruit, hite, and employ workers long-term. An investment in home and community based supports is an investment in Ohio jobs and the Ohio economy. It provides equal acess to homecare."
Make a Donation
Please give. To the best of your ability.