Community Integration: A Safer Solution to Ride Out the Pandemic #AdvocacyMatters
May 8, 2020 / Ball v. Kasich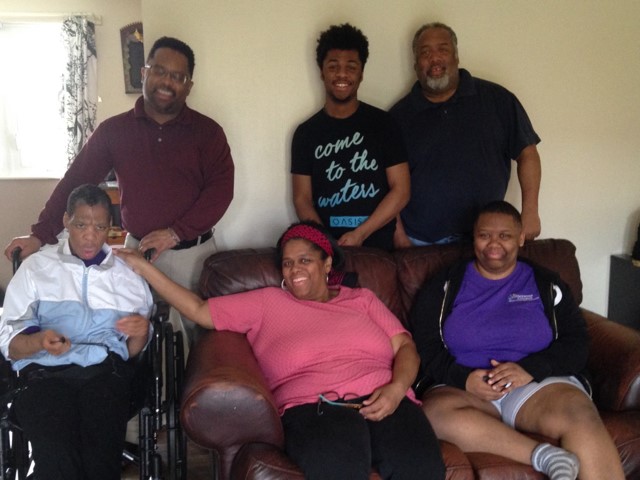 "My sister is just so much happier. You can see the difference."
You can hear the relief in Cathy Jordan's voice when she talks about her younger sister Caryl. Today, Caryl, who was born with an intellectual disability, lives in a small, community-based group home in Reynoldsburg, Ohio. The staff is taking precautions to keep Caryl and her housemates safe during the COVID-19 crisis. And, on a day to day basis, Caryl has a say in what she does and where she goes. She's a vibrant member of her community and her big sister says that's made all the difference in the world.
"The freedom to do the things she wants to do, to be out and about, that's the positive difference. Coming home and being closeted in, just didn't work for her."
Caryl was one of the original plaintiffs in Ball v. DeWine, Disability Rights Ohio's class-action community integration lawsuit. Shortly after the suit was filed Caryl received the waiver needed to move out of the intermediate care facility (ICF) she was unhappy living in, into a smaller, community-based setting. Late last month, a Federal Judge approved the comprehensive settlement reached in the lawsuit, giving Ohioans with disabilities more options to live and work in their communities with the support they need.
"She is out in the community and loving it because she can choose to go and do. She is now living a more typical life."
The COVID-19 crisis has magnified the isolation individuals with disabilities feel who are not fully integrated into the community. In fact, the isolation is not just because of the pandemic, but also due to the lack of services and the right to make meaningful choices. Because of the outbreak, the home Caryl lives in is limiting visitors and residents aren't out and about as usual, but Cathy firmly believes her sister is safer living in a smaller, community-based environment during this crisis. The statistics show she's probably right. COVID-19 has a disproportionate effect on people who both reside or work in long-term care facilities. For this too, Cathy is eternally grateful. She reached out to tell DRO because for her sister, #AdvocacyMatters.
"I made a promise to my mom before she died that I would take care of my sister. It gives me peace of mind to know that my sister is safe and, in a place, where she can be happy and live in a setting that is truly a community and she can be a part of it. I thank you all because you saved my sister."
Make a Donation
Please give. To the best of your ability.