Honoring a Champion: Sue Willis, Lost but Never Forgotten
May 21, 2020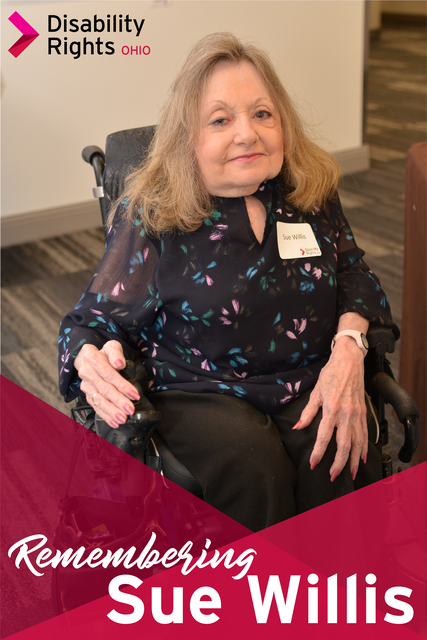 This week the Disability Rights Movement lost a champion, Sue Willis. Sue was a powerful figure who always spoke up. Her loss is being greatly felt by all those who loved her and worked with her.
The staff and board of Disability Rights Ohio owe a special debt to Sue. As a founding board member of Disability Rights Ohio, she helped lead the transition from a state agency to a private non-profit She served on DRO's board from its founding until just months ago, dedicating over 12 years of service.
She held several positions including President and was a member of the Development Committee helping to organize DRO's first fundraiser, which brought together artists with disabilities and art lovers during the Columbus Arts Festival.
Sue was well respected by DRO's staff and her colleagues on the Board. "Sue was a remarkable woman and also a valued mentor to me during the years she and I served together on DRO's Board of Directors. She chose to claim and celebrate her disability rather than distance herself from it as evidenced by her devout and never-ending advocacy efforts for people with disabilities. I so admired her and her accomplishments. I will miss my colleague and friend--her silence will ring loudly," said DRO's current Board President, Jennilee Mohler.
Sue impacted not just Disability Rights Ohio's work, but many other disability organizations as well. She served on DD Council and the Olmstead Task Force, to name just two out of many. She even created her own communications and events organization, the AXIS Center for Public Awareness of People with Disabilities, which utilized her Bachelor's and Master's degrees in design and communication from The Ohio State University. She earned these degrees prior to the enactment of the Americans with Disabilities Act, a testament to the type of challenges she dedicated her life to eliminate.
Her expertise on communications and policy came together when she testified in defense of DRO on Ohio's budget bill last year, which had included a provision to attack the existence of Ohio's Protection and Advocacy organization. She summarized her life experience best in her own words: "I am a very independent person, something that I believe every person with a disability should have an opportunity to become. Achieving an education, owning a home, buying a car with hand controls and a ramp, working, paying your own bills, and being a part of the community helped me become independent." The provision was defeated through her voice and the voices of other people with disabilities that she helped raise.
She also spoke about her journey of born with brittle bone disease; how she went from avoiding her disability to embracing the power it gave her to speak out. DRO is eternally grateful for her leadership, expertise, and strength. As we move forward, we pledge to honor Sue in our everyday work, empowering our clients to lift their voices as they become the next generation of self-advocates.
Make a Donation
Please give. To the best of your ability.