National Celebration of Pro Bono Week: Spotlight Interview with Maria Carr
October 23, 2019 / Medicaid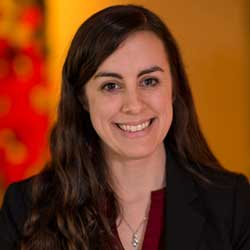 This week, DRO is celebrating all the hard work that our legal pro bono volunteers complete each year. Pro bono work, at its core, is voluntary legal work done "for good" as its Latin translation suggests. To learn more and better applaud these attorneys, paralegals and law students, we sat down with McDonald Hopkins associate attorney Maria Carr.
Before becoming a lawyer, Maria graduated from Vanderbilt University with a Bachelors of Music—specifically working with the bassoon and piano. She utilized her musical talents to help pay her way through law school by teaching piano lessons. Even now with her packed schedule, Maria still finds time to make music.
A graduate of Case Western Law, Maria works at McDonald Hopkins in Cleveland, specializing in business reconstruction and bankruptcy law. Maria first became involved with DRO when McDonald Hopkins helped defend DRO's client in a 2018 case, and since then she's lent a hand in DRO clients' Medicaid appeal cases. In these cases, she works directly with families and people with disabilities in the Northeast area of Ohio to challenge changes to their essential Medicaid care. Just this month, Maria was excited to receive notice that four of the pro bono cases being handled either by her or her fellow pro bono volunteers at McDonald Hopkins were decided in the clients' favor, providing life-changing outcomes.
As a young lawyer in the corporate field, Maria became involved with pro bono work for a number of reasons. For one, it's clear to her that these cases have significant impact upon the lives of families and people with disabilities: without those like Maria, cases that are critical to people's well-being will go unrepresented. Alongside that, Maria says that she gains experience and knowledge about topics she wouldn't see in her day-to-day routine, such as litigation in a courtroom. Pro bono work is rewarding not only to the lawyers and clients directly involved, but also the organizations that represent them. Without lawyers like Maria, DRO wouldn't be able to aid such a large number of Ohioans each year. For firms like McDonald Hopkins, Maria believes lawyers who do pro bono work return with new insights, experiences and connections that can help her firm's clients through different—yet still worthy—difficulties.
Maria and her colleagues' work is invaluable both at McDonald Hopkins and at DRO. Maria said she feels strongly about the importance to give back and feels that it is a privilege to work at a firm that encourages pro bono work. To any law professionals on the fence, especially those just starting out, Maria highly recommends getting involved in pro bono work: "Go for it….You're smarter than you think you are." Maria speaks highly of DRO's staff that directly support the pro bono team, commending their expertise and ability to be a great resource that gives her confidence to argue on behalf of her clients.
To all the pro bono volunteers both at DRO and across the country, DRO sincerely thanks your dedication to helping people and our communities flourish.
If you are interested in becoming involved with DRO's Medicaid pro bono team, you to contact us by calling 800-282-9181 and selecting option 2 for intake. You can learn more about DRO's pro bono partnerships here.
Make a Donation
Please give. To the best of your ability.