DRO Policy Summit tackles important issues
June 5, 2019 by DRO Director of Policy and Advancement Lisa Wurm / policy
DRO held a Policy Summit in late April to discuss important policy and major issues impacting people with disabilities, their providers and their loved ones.
State Budget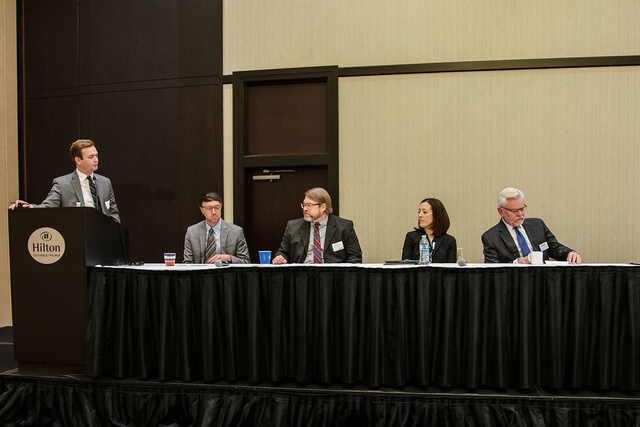 With nearly 90 in attendance, the day started with a panel on the state budget from DRO's team of analysts. They discussed the budget proposals from the Departments of Medicaid, Mental Health and Addiction Services, Developmental Disabilities and Opportunities for Ohioans with Disabilities. At that time, the governor's budget contained some very positive measures (including increases for direct service provider wages). Most of his asks were maintained – or even increased – in the House version and we await the Senate version to see what they will do.
Breakout Sessions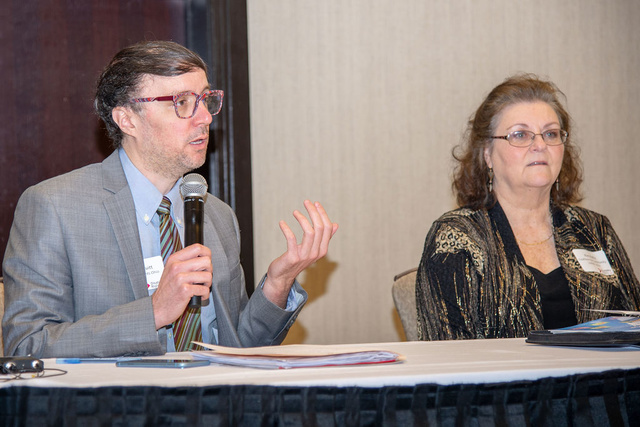 After the budget panel, attendees were encouraged to participate in one of three breakout sessions:
Medicaid and Managed Care – moderated by DRO's CAP Coordinator Alison McKay and hosted by DRO's Rebecca Barbarsky and Jeffrey Corzine from UnitedHealthCare

Rebecca covered some of the issues and trends we are seeing from clients regarding Medicaid.
Jeffrey covered the state of managed care.
Those in attendance discussed the complex nature of health care and the importance of person-centered care.

Direct Service Provider Crisis – moderated and hosted by DRO's Community Integration Team Leader, Kevin Truitt, with Kim Kelly from the Coalition for Community Living.

Both Kevin and Kim shared concerns about the extreme difficulties of finding and maintaining quality providers. Other attendees agreed and shared their similar experiences.

Special Education and Children's Mental Health – moderated by DRO's Kerstin Sjoberg and staffed by DRO's Education Team Leader, Kristin Hildebrant, and the Adult Advocacy Centers' Katherine Yoder (former DRO Abuse and Neglect team member)

Kristin shared her experience in seeing a huge uptick in cases involving students with disabilities with a behavior component. Katherine discussed her experienced with abuse and neglect in children's mental health facilities and the Ohio's new forensic interview protocol, which will be rolling out soon.
Keynote and Award Presentation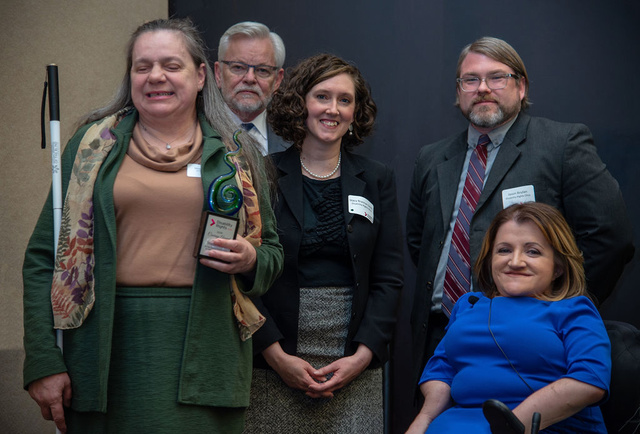 Following the breakout sessions, attendees regrouped and listened to the keynote speaker, Julie Hocker, the Commissioner of the Administration on Disabilities from the U.S. Department of Health and Human Services. Commissioner Hocker shared her personal story about the ways having a disability once limited her aspirations and her vision that all people with disabilities are able to reach their potential.
We then presented Shelbi Hindel with DRO's Courage Award for her work as lead plaintiff in the lawsuit brought by the National Federation for the Blind and DRO in 2015 that eventually led to Ohio's new remote absentee ballot marking tool.
Priorities Session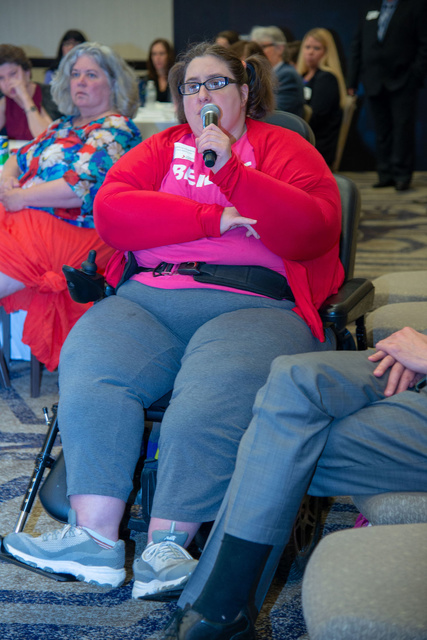 Keeping with the spirit of the event, DRO hosted an open feedback session, where attendees gave their thoughts about the work DRO should prioritize in 2020. People expressed a need for support with housing discrimination, autonomous vehicles, employment needs – especially for the deaf/blind community, concerns with EVV, more resources for rural communities, and alleviating the direct service provider shortage. Attendees also suggested that DRO collaborate with more groups and do more education to help people know and exercise their rights.
Department Directors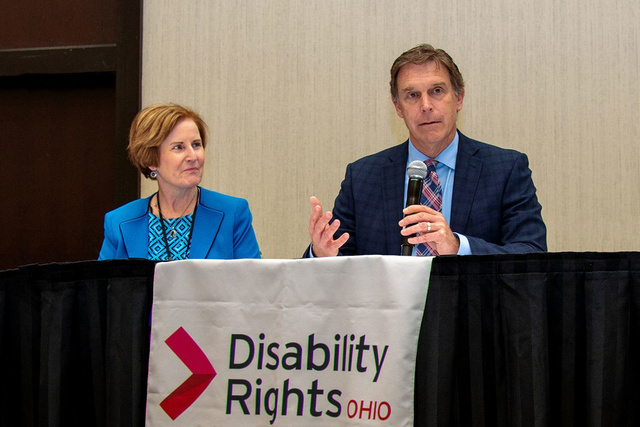 The summit closed with Maureen Corcoran, Ohio's new Director of Medicaid, and Jeff Davis, the new Director of the Department of Development Disabilities. Both leaders expressed concerns about the provider shortage and their desire to make these systems less complex so they will work for people. They took questions and the Director Corcoran even stayed an hour after the event to hear directly and privately from people about their concerns.
Overall, the day was an important gathering of people with disabilities and organizational partners. We are fortunate to work alongside so many people who are dedicated to changing the system to improve the lives of Ohioans with disabilities. Thank you to all who attended.
Make a Donation
Please give. To the best of your ability.