Kayla Stacy finds a path forward after being abused by her doctor
June 26, 2018 by DRO Communications Specialist Stacy Brannan-Smith / victims of crime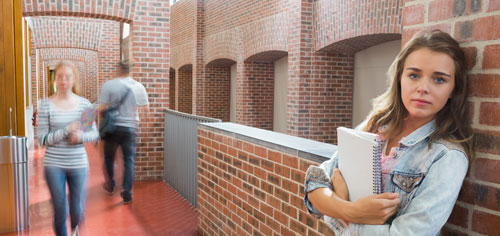 Trigger Warning: This feature story contains description of sexual assault.
People with disabilities depend on doctors. For therapy. For prescriptions. For guidance. Kayla Stacy's long journey with chronic pain had left her frustrated by many healthcare professionals who didn't take her complaints seriously. So when she found a doctor who seemed to really care, she was thrilled. She sees now that he spent a long time grooming her to accept inappropriate behavior – and, ultimately, sexual assault – and she wants other people with disabilities to know that it's okay to come forward and to call DRO if the same thing happens to them.
DRO was there for Kayla throughout the extensive trial process, fighting for her rights as a victim. We supported her as she filed a complaint to the medical board and as she continues with a civil suit. Despite all the challenges, Kayla has gotten her life back on track and is able to speak out about her story, which began nearly eight years ago.
A Life with Chronic Pain
When her pain started, Kayla initially thought that she'd just taken a bad throw in martial arts class. It took about a year before she realized the problem was not going away, and she should go to the doctor.
Ultimately, at age 19, she was diagnosed with ankylosing spondylitis, a form of arthritis that affects the spine. Doctor after doctor treated her poorly, suggesting that she was exaggerating her pain, even hurting her during appointments. The medications she tried didn't work, and she continued working and going to school for several years – until she could no longer take the pain.
"Eventually, I moved home because I couldn't do it anymore," she recalls. "I applied for disability so I could figure out what was going on. I decided to go back to a rheumatologist."
The doctor she found had an office nearby, and he came highly recommended by other women who were dealing with chronic pain. To Kayla's surprise, he was able to get her in quickly, in just three weeks instead of the months-long timeline for most specialists. She'd developed anxiety and depression because of her experiences with previous doctors, so when he expressed sympathy, it was a welcome change.
"He talked about how it was almost criminal, the way I'd been treated," she says. "He set himself up as a savior. He said, 'If you hurt, you need to come and see me because we can't have a young girl like you hurting. It's just not right.' I was 23."
He gave her injections during that first visit, and she walked out feeling much better. It kept her coming back for 2.5 years, even as his behavior became more and more inappropriate.
"Things were weird before things were wrong," she explains.
He was obsessed with bras and would demonstrate the supportive qualities he thought they should provide with his hands. He never gave her a gown or a sheet for draping. He hugged her and prayed over her when she didn't have a shirt on, without her consent. It was easy to explain away as "quirky," as she says, since he did it even with her mother or fiancé in the room. She would tell herself, "It couldn't be abuse if someone's sitting right there as a witness, right?"
And he was also willing to prescribe biologic drugs that worked for her, and the nature of those drugs means that if she stops taking them, even for a brief time, they may stop working. He'd promised he would submit the prior authorization paperwork she needed to be able to get coverage for the drug so she wouldn't have to come in so often, but he delayed. He did everything he could to keep her coming back. Then, on May 4, 2017, he crossed a line.
First, he wouldn't allow her fiancé into the exam room with her. Then he said he wanted to do more injections in more areas than usual and asked her to remove her shirt. He made a joke to get her to remove her bra, too, then started performing a "massage technique," that progressed to sexual assault with his bare hands. He once again hugged and prayed over her. She was stunned, but she shook it off to try to get the prior authorization form from him. She'd written down everything he needed, but he blew her off, giving her his phone number instead and a month's worth of the drug in samples. She had no choice but to come back the next month, at which point he gave her yet another sample.
Others Come Forward and Kayla Calls DRO
In mid-June, Kayla's mother called the doctor's office to make an appointment and was told that the office was closed, perhaps permanently. Kayla instantly knew why, and she knew that what had happened to her was not an accident. She went to the police, knowing that someone else must have come forward. She also made a report to the State Medical Board of Ohio. Those agencies interviewed her together so that she would only have to tell her story once.
She was right: there were others. The county prosecutor ultimately pursued misdemeanor charges against the doctor over his abuse of five different women. Eighteen women came forward to the medical board. Kayla also filed a civil lawsuit, along with 11 of the women.
It was all very complicated, and Kayla felt that she needed an advocate to help her through the process, so she called Disability Rights Ohio's Victims of Crime Advocacy program, where she was connected to Attorney April Wheeler.
"April went with me to court hearings or went on my behalf," Kayla says. "She'd go and give me updates so I always knew exactly what was going on. She sent me documentation of the accounts the medical board had against him."
During the trial, April advocated for Kayla's rights as a victim, even though the court frequently trampled on those rights.
"Kayla wasn't informed of prior hearings, even though we requested to be notified, as she has a right to do," April says. "Victims also have a right to be in the courtroom, but the judge wouldn't allow it. Instead, these five women – all with chronic pain – were forced to sit in a small room together throughout the whole trial. They were not permitted to walk around – not around the courthouse, not at a nearby store. The prosecutors frequently accused Kayla and her family members of inappropriate conversations, which was not the case at all."
The trial lasted five long days, and April, who was permitted to be in the courtroom more often than Kayla, was there every minute. She often had to remind the prosecutor to consider letting the victims leave early, once it was clear that the remainder of the day's work would not require their testimony.
"There was little consideration for the victims. The other victims were not notified of prior hearings and thought the prosecutor was their attorney," April says. "In my opinion, the prosecutor talked down to Kayla, telling her to dumb down her testimony, and she would become frustrated quickly if Kayla didn't follow her line of questioning. In my opinion, it was disrespectful to Kayla who was trying her best to answer the prosecutor's questions in a stressful situation."
Ultimately, the doctor was found guilty on three of the charges. Ultimately, Kayla's wasn't one of them, but her testimony did help to prove that his actions were intentional, not accidental. He was sentenced to 180 days in jail but has filed an appeal in the criminal case. Earlier this month, she was notified that the doctor has chosen to voluntarily relinquish his medical license, so the medical board hearings were cancelled. The civil suit is expected to settle in August.
Getting Well
Kayla has since completed a therapy and integrated treatment program at the Cleveland Clinic Chronic Pain Rehabilitation Center. She is now feeling better than she has in years – well enough to go back to work and school, where she's studying conflict resolution. The outcome of the criminal charges is disappointing, but she says she knew when she went to police it was statistically likely he would be acquitted. That's why she'd also filed the complaint with the medical board and joined the civil case.
"I was hoping something would stick," she says.
She does hope her story will encourage people to come forward if they are being abused by someone they have trusted. She also encourages crime victims to call DRO for help.
"You cannot change anything by hiding," she says. "I was lucky to find out about DRO, and they made all the difference. Even now, as he seeks an appeal, April is keeping an eye on it so that I can just focus on school and work. April made sure I was never left out. She made me feel like a human, not a piece of evidence to be pulled out of a box. I don't know how I'd have gotten through this process without her."
If you are a victim of crime with a disability, DRO can help you. To connect with our Victims of Crime Advocacy Program, call 614-466-7264 and select option 2 for intake or submit an online intake form.
Make a Donation
Please give. To the best of your ability.