Kent State program provides opportunity to delve into disability policy
January 8, 2019 by DRO Intern Ilee Tyler / policy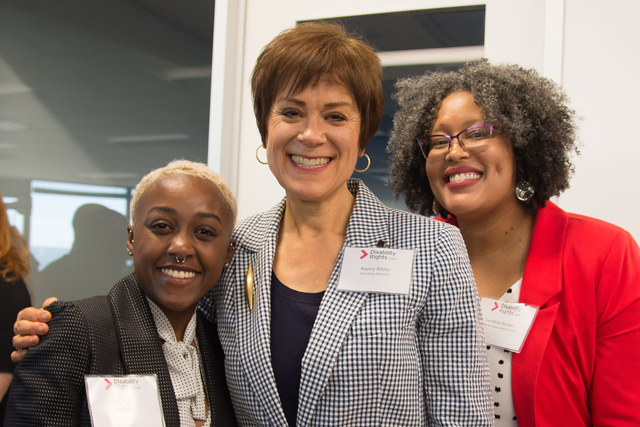 In the fall and winter of 2018, I had the opportunity to participate in a semester-long program at Kent State University that allows upperclassmen to live and learn in Columbus - Ohio's state capital. We attended briefings and committee meetings and had our own internships three days a week. The program is set up to provide us with a stronger knowledge of politics and get a strong footing for our futures. I was originally introduced to this program, The Columbus Program in State Issues, through my best friend after she participated last year.

I have known that I want to serve people with disabilities since I was 10 years old. During my program application interview, I said that I wanted an internship that would give me hands-on experience, a chance to do advocacy work, and an opportunity to work with people with disabilities. In my interview with the director of the program, Senator Vernon Sykes, we spoke about my career goals, my current education status, and what I was looking to get out of an internship. At the time I didn't think he would be able to find such a great fit for me, but no more than a month later I got my placement at Disability Rights Ohio.
I was more than excited to be a part of the policy team at Disability Rights Ohio in the hopes that I could learn more about the organization's systemic and advocacy work and find out more about the outreach programs that are in place in Ohio for people with disabilities.

During my time at DRO I got to attend plenty of outreach events, such as the Easter Seals Miami Valley Vision Summit, where we got to give a presentation on DRO and I was able to network with other organizations. But my favorite outreach events were going to developmental centers around the state to talk about voting rights and help people understand how to vote. Most of the events I participated in were about voting, and I believe myself to be lucky to be in the capital during an election year. I really enjoyed the chance to speak with clients and get more experience in public speaking.

I was also able to participate in policy prioritizing for the 2019 fiscal year, which really taught me many things, like what a fiscal year is, how to organize a priority document, how to write memos, etc. I had an opportunity to sit in on legislative committee meetings and the Counselors Not Cuffs committee, which enlisted my help to create a school resource officer memorandum. And each Friday I reviewed and sent out the newly introduced legislation to DRO leadership.

Before this program I felt very uninformed about state politics and how important it all is to our society. I now believe that the happenings in the Statehouse have a greater impact on our lives then many people know. During my time at DRO I gained the tools to inform others as well.
I believe that the work I did at DRO has shaped my plans after college. I hope to get into a master's program and receive my degree in social work or public health, in order to create an after-school program that caters to children with disabilities, helps people who are aging out of state programs, and creates a safe space where people can go to further their education and learn how to be a self-advocate.

Thank you to DRO and Dr. Sykes for giving me this great opportunity.

Ilee Tyler is a senior Sociology Major at Kent State University, with a minor in political science. She will graduate in May 2019.
Make a Donation
Please give. To the best of your ability.