News from Disability Rights Ohio is the monthly newsletter from the Disability Rights Ohio providing information and updates about case work and activities of Disability Rights Ohio, and other disability-related news

In this issue:
Visits to Amtrak stations uncover many problems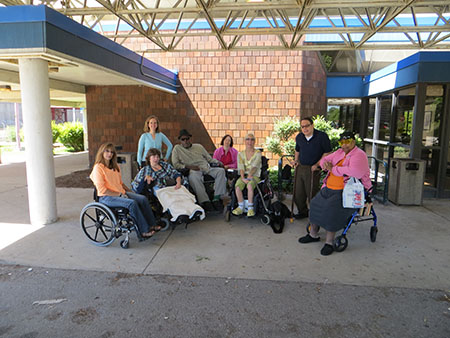 During the week of July 21-27, Disability Rights Ohio joined the National Disability Rights Network (NDRN) and other Protection and Advocacy organizations across the country in a national week of action on Amtrak. People with disabilities often rely on public transit to travel for work or for leisure, and they have the same right to transportation services as anyone else.
Amtrak has had more than 20 years to make their trains and stations accessible to people with disabilities, and many stations are still not accessible.
Disability Rights Ohio staff members joined individuals with disabilities on visits to Amtrak commuter rail stations across the state to review and record accessibility options and issues. The surveys measured structural design elements, such as door widths, ramps and curb cuts, height of ticketing counters, number of accessible parking spaces, grab bars installed in restrooms and method of boarding trains.
The completed surveys revealed a large number of accessibility problems with the Amtrak stations in Ohio. For example, at the Cleveland station, no electronic or audio system existed to provide notice of train schedules; moreover, all transit maps and other informational materials were posted high on walls, inaccessible to people in wheelchairs. At the Cincinnati station, there were multiple issues with uneven pavement in the parking lot and at the entrance to the building. At the Toledo station, the design of the bathroom stalls made it difficult for people in wheelchairs to use the restroom, and the sinks and hand dryers were not accessible. Many of these problems were seen in multiple stations.
Disability Rights Ohio will be reporting its survey results, and NDRN will be completing a report on the nationwide effort. Any violations of the Americans with Disabilities Act will be reported to the U.S. Department of Justice, which has the authority to enforce the provisions of the Americans with Disabilities Act. People with disabilities also have the right to file a complaint against Amtrak under the Americans with Disabilities Act for failing to provide services in an accessible manner.
City of Columbus, Yellow Cab roll out wheelchair-accessible taxi program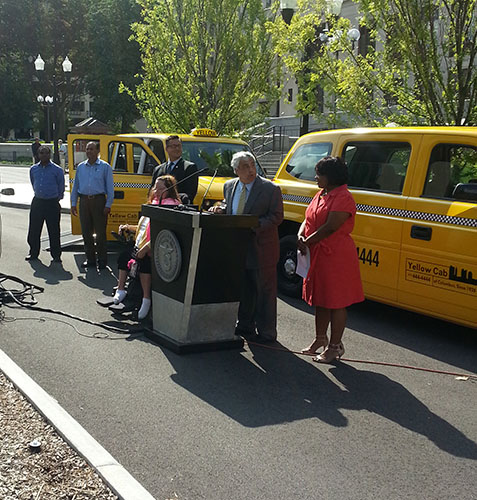 Columbus-area residents and visitors who use wheelchairs now have a convenient way to travel around the city, thanks to a new accessible taxi cab program.
The idea for the program started a year ago, when Jeff Kates, President of Yellow Cab of Columbus, went to City Councilwoman Michelle Mills with an idea.
"We're part of the Taxi Livery Paratransit Association, and I kept hearing about cities creating mandates for accessible cabs. We wanted to try to shape a program that would be good for Columbus. So, we got together with Councilwoman Mills and asked, 'We think this is important. Do you think the city agrees, and can you support us?'"
Once Mills was on board, he went to the Columbus Advisory Council on Disability Issues to get their input. Ann Christopher, who serves on the committee, says the timing was perfect and the service was very much needed.
"Those of us in the disability community have been dissatisfied with transportation on demand," she explains. "If you needed to get to the airport or the dentist and you weren't registered for COTA's Project Mainstream or you didn't live on a bus line, you were stuck. People who would come to town for a conference had no way to get around the city. This problem had been around for a long time, and we'd already been thinking about it, so when Jeff came to us, we told him, 'We will help you in whatever way we can.'"
Support from the city had to go beyond partnerships and a cursory blessing of the project. Columbus City Council had to vote to expand the city's taxi fleet.
Like any other city, Columbus caps the number of taxi cabs allowed on the street to ensure a balance between good service to the public and a competitive market for the drivers. The number is evaluated annually, and Columbus has had about 500 cabs for several years.
"We said we could make the investment to add some accessible cabs if the city would add a few more licenses so we could make it happen. Ultimately, they issued 30 additional licenses. We got 10, and Acme got five. The rest are spread out to the other cab companies."
Of those 10 accessible Yellow Cab taxis, five are already on the road and were officially unveiled outside Columbus City Hall on July 24. The other five should be added by the end of the year. The fare for the accessible vehicles is the same as the fare for all other cabs in the fleet.
Ease of Entry
Yellow Cab was very thoughtful about the accessible cabs they ordered. Working with the Vehicle Production Group, which builds vehicles in a former Hummer plant in Indiana, they chose cabs with side entry ramps, rather than rear entry. The ramp also manually slides into the floorboards, taking up less space than ramps that fold up.
"We didn't want the customer to feel like a piece of luggage," Kates says. "We wanted the person to enter from the side and travel up front, next to the driver, to be a part of the action. We also didn't want to load from the street."
Christopher agrees. "You just roll in, and they click you in," she says. "It's not a big production. Plus, there's plenty of room for friends and family, luggage, medical equipment, whatever you need. They're also pet friendly, so if you have to take your pet to the vet, now you have a way to get there. That was always very difficult before, since COTA and medical transport don't allow non-service animals."
The drivers, who volunteered to drive the new cabs, were required to take four days of additional training, including Red Cross CPR and first aid certification, Major Unusual Incidents training, defensive driving and training in properly securing a wheelchair. Yellow Cab also hired a full-time safety manager specifically to oversee the project.
Kates is just happy to add to the things that make Columbus a great place. "Columbus is kind of a happening city right now," he explains. "We've got about 130 vehicles on the road, and we want to contribute."
Disability Rights Ohio traveling the state on Listening Tour

Disability Rights Ohio is setting the priorities for its work in the upcoming year, and we want to hear from you! We are traveling around the state to get input from people with disabilities, their families and caregivers, service providers, agency employees and all other stakeholders. The Columbus session will also offer a call-in option for those who can't attend a session in person. Find a session near you and come out to tell us about the disability-related issues that are important to you!
RSVPs are encouraged but not required. Go here to RSVP for a session.
American Sign Language interpreters will be available at every session.
Columbus
TODAY, August 15, 5:30 to 7 p.m.
Disability Rights Ohio, 13th Floor Conference Room
LeVeque Tower
50 W. Broad St.
Columbus, OH 43215
This meeting will have a call-in option for those who cannot attend a session in person. Dial 1-800-697-5978 on any touch-tone phone. You will be asked for a passcode, which is 5561 035#.
Cincinnati
Monday, August 19, 5:30 to 7 p.m.
Cincinnati Main Library, Tower Room
800 Vine St.
Cincinnati, OH 45202
Chillicothe
Tuesday, August 20, 5:30 to 7 p.m.
Ohio University, Chillicothe Campus
Room 105
101 University Drive
Cillicothe, OH 54601
Cleveland
Wednesday, August 21, 4 to 5:30 p.m.
Cuyahoga County Mental Health Board, Conference Room
1400 W. 25th St., Third Floor
Cleveland, OH 44113
Dayton
Thursday, August 22, 5:30 to 7 p.m.
Dayton Main Branch Library, Meeting Room
215 E. Third St.
Dayton, OH 45402
Ashland
Friday, August 23, 5:30 to 7 p.m.
Mental Health and Recovery Board of Ashland
1605 County Road 1095
Ashland, OH 44805
Findlay
Monday, August 26, 5:30 to 7 p.m.
Findlay-Hancock Public Library, Main Branch, Conference Room
206 Broadway
Findlay, OH 45840
Cambridge
Tuesday, August 27, 3:30 to 5 p.m.
Cambridge Developmental Center, Food Service Building
66737 Old 21 Road
Cambridge, OH 43725
Toledo
Wednesday, August 28, 5 to 6:30 p.m.
Ability Center
5605 Monroe St.
Sylvania, OH 43560
We want to hear from you! Fill out our 2013 Priorities survey

Disability Rights Ohio is working to set its priorities for the next year, and we want to hear from you! Our 2013 Priorities Survey gives you an opportunity to tell us about the disability-related issues you believe are most critical.
Those who fill in the survey and choose to provide us with an email address at the end will be entered into a drawing for one of three $50 Amazon gift cards. The survey closes on August 31; winners will be notified by email on October 2.
Action and results: Case summaries
DRO helps client get speech-generating device
A non-verbal adult will finally be able to express himself with the help of his first speech-generating device. His speech therapist had requested the assistive technology (AT) for the client from Medicaid, but the request had been denied. The speech therapist contacted DRO for assistance in getting approval for the AT.
A DRO attorney reviewed the documents that had been submitted, along with the denials from Ohio Medicaid, and advised the speech therapist about the additional information she needed to submit to show that the device was medically necessary and to comply with the administrative rule. She resubmitted the request with the new information, and this time Ohio Medicaid approved the device.
Student successfully advocates for transportation to technical program
A student who decided to seek additional training from a technical college is looking forward to starting classes, but until recently thought he might have to give up on this plan because of a lack of transportation. The student with multiple disabilities, who is on an IEP and receives services through BVR, decided to defer his graduation and enroll at a career technical college. He requested transportation services, but the school district refused to provide transportation to the program. The client and his parent has exhausted their known resources and needed assistance so that he could access the technical program. They decided to contact Disability Rights Ohio.
A DRO advocate discussed the case with the client and his parent and, with permission from the client, requested the client's records from BVR. The advocate consulted with a staff attorney on the case, who was able to provide direct assistance to the parent so she could advocate for her son. The attorney advised the parent and the client about who to contact, advised them on what to say, forms to request and information to include on the forms; and instructed the parent to be proactive about recognizing when the school district has to provide accommodations. As a result of DRO's involvement, the parent reported that the school district had agreed to pay for the transportation costs. The student now has the transportation services necessary to attend the program and receive the training he needs.
Nonprofit reminded that inclusion pertains to all camps
DRO received a complaint that a non-profit organization excluded a child from participating in a special needs camp because he is a person with an intellectual disability.
A DRO advocate contacted the non-profit and set up a meeting with them. The advocate talked about how the American's with Disabilities Act ensures that everyone has equal access to programs and all camps are camps that enroll and accommodate individuals with special needs. As a result of this meeting, several positive outcomes emerged. The non-profit revamped their website and camp description to clearly state that individuals with disabilities may enroll in all camps, also rewriting their camp registration booklet to reflect these changes. Finally, they have a plan to train all of their staff to ensure that everyone is aware that their agency is compliant with the ADA and provide accommodations to campers when needed.
Help us keep the victories coming! Donate online to Disability Rights Ohio

We believe people with disabilities should be allowed to participate in the community and have a say in how they live, just like people who live without a disability. There is always more to do, but we need your help.
Disability Rights Ohio can now accept donations via PayPal. You can find the PayPal button on our Donate page. Please consider making a donation yourself or come up with a creative way to raise money for our cause. Thank you so much for your support!