In this issue:
Remembering the best stories of 2013

It was a good year for Disability Rights Ohio, our first as a private nonprofit agency. Take a look at our best stories of 2013.
Right to counsel for those under guardianship upheld by Ohio Supreme Court
On January 16, 2013, the Ohio Supreme Court unanimously affirmed the right of individuals under guardianship to be represented by a court-appointed lawyer during review hearings to determine whether they continue to need a guardian. Disability Rights Ohio brought this case on behalf of Mr. James McQueen, who resides in a locked nursing facility in Cuyahoga County by order of his court-appointed guardian, who is neither a family member nor a friend. Mr. McQueen no longer wishes to live in the facility and had applied for a review of his case to end guardianship.
###
Ohio Department of Education begins formal process to adopt Seclusion and Restraint rule
The long-awaited rule to limit the use of seclusion and restraint interventions in public schools and to implement positive behavior intervention and supports (PBIS) was filed with the Joint Committee on Agency Rule Review (JCARR) on February 8, 2013.
Read about it, including the full text of the rule
Read our statement about the hearings, held in March, and the full text of the testimonies
###
DRO Board of Directors elects five new members
On Tuesday, April 9, the Disability Rights Ohio Board of Directors elected five new members who have a wide variety of backgrounds and expertise, including civil rights law, program administration and disability-related consumer advocacy.
Read the full story, including bios of new members
###
Court finds that schools must provide age-appropriate transition assessment, regardless of disability
A Southern District court ruling over the summer on a Disability Rights Ohio case made it clear that school districts must provide age-appropriate transition assessments to students with disabilities. In Gibson v. Forest Hills School District Board of Education, the court found that the district did not ensure the student received age-appropriate transition assessments from age 16, did not invite the student to her transition IEP meetings and did not take appropriate steps to get the student's input, preferences and interests for her future. Therefore, the court held that the district denied the student a free, appropriate public education (FAPE ), which is her right. The court's decision also clarified that because the district failed to complete these assessments, the district did not provide her with transition goals, as is required under the Individuals with Disabilities Education Improvement Act (IDEA ).
###
Listening Tour traveled 1,725 miles around Ohio
In August, Disability Rights Ohio staff traveled across the state to hear from individuals with disabilities, their caregivers and other service professionals about the issues that were important to them. This Listening Tour allowed people to speak about their concerns in person in a more conversational manner.
Disability Rights Ohio is often the only resource available to people with disabilities. Help us do more good work

A worker is denied a needed accommodation. Or not hired at all. Or denied vocational rehabilitation services. Disability Rights Ohio helps people with disabilities to become contributors in the workplace.
A student cannot obtain assistive technology that allows her to be educated with her classmates. Disability Rights Ohio helps students achieve their educational potential and transition to productive, fulfilling lives.
A person taken to another county to receive mental health treatment in a hospital cannot obtain a ballot. Disability Rights Ohio helps people to be full participants in the democratic process.
A child suffers injuries when untrained staff use an illegal method to take down and restrain the child. Disability Rights Ohio holds those who care for and educate children accountable.
DRO can make a crucial difference for our clients. But issues like these occur daily around the state, and legal advocacy is in short supply. Disability Rights Ohio is often the only resource to help people take on these challenges.
Our small staff is dedicated to furthering our mission: to protect and advocate for the human, civil, and legal rights of people with disabilities in Ohio. We struggle to keep up with demand, and federal money, still the core of DRO's funding, has shrunk because of the gridlock in Washington.
With your help, we can keep doing our critical work. Please consider making a tax deductible gift to DRO. You can make a secure gift online at disabilityrightsohio.org/donate, or send a check to:
Disability Rights Ohio
50 West Broad Street, Suite 1400
Columbus, Ohio 43215
Staff Profile: Senior Advocate Mary Mutahi works for righteousness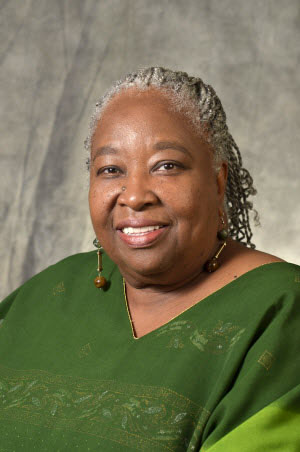 Disability Rights Ohio Senior Advocate Mary Mutahi is one of those lucky people who knew what she wanted to do with her life from a very young age.
"People always talked to me, even older people," she explains. "And I always stood up for people with disabilities. When I got into fights, it was never on my own behalf; it was always because I was standing up for someone else. My sense of righteousness has always been very strong. I just think right is right, and who can say what a life should look like?"
When it was time to go to college, she studied sociology at Centenary College in Shreveport, LA, and psychology at Bishop College in Dallas, TX. Her first job was at a suicide hotline. She found she really enjoyed helping people by just listening to their stories, and over time, she moved up the ranks at the organization.
After Mutahi's brother convinced her to move to Columbus, she was hired as one of the first case managers at Southeast, a mental health facility in Columbus. Eventually, she ended up at Ohio Legal Rights Service (OLRS), now Disability Rights Ohio, where she's worked for 25 years, predating the Americans with Disabilities Act of 1990.
In those 25 years, she's been an investigator, an ombudsman, done speaking engagements, and in the last five years, advocacy work in jails and prisons. The common thread in all that work is her preference of working in the community.
"When you think about an advocate, you think of giving people a voice, but I see it differently," Mutahi says. "I see it as listening more intensely to empower people to speak for themselves. Giving them a power they feel has been taken away from them."
As Mutahi talks about the current state of affairs for people with disabilities in Ohio, she paraphrases A Tale of Two Cities: "It is the best of times for individuals with disabilities becoming more empowered and linked to community involvement, yet it is the worst of times with all the budget and service and treatment cuts." She believes, though, that strong, caring, involved advocates will continue to lead the state to a place of equality, which she hopes will not take another 25 years.
Asked when she might like to retire and head back to a warmer climate, Mutahi pauses. "I'm not sure. Will I make it 27 years? 28? Surely not 30. But I'm here because I have a passion, and I'm not ready to not work yet. I like it here. I can't imagine working at a place I didn't like, and there is so much yet to be done. Whenever I retire, there is nothing more I could ask for than other strong advocates to take the baton and march on for righteousness."
New Publications from DRO

Disability Rights Ohio has created three new publications, focusing on different aspects of our work:
Protection and Advocacy for Individuals with Mental Illneess (PAIMI)
A fact sheet that covers some of the work we do under our PAIMI grant
###
Know Your Rights, Get Help If You Need It
A fact sheet about the rights of children in residential treatment facilities
###
Employment: You Have the Legal Right of Way
A fact sheet about employment rights for people with disabilities
DRO in the News
Volunteer with Service Dog Banned from Columbus School - ABC Channel 6 News, Columbus
Rose Wilson was told she could no longer bring her service dog when she volunteered at her grandchildren's school. DRO attorney Kevin Truitt spoke about the rights of people with service animals.
###
State expected to decide within weeks whether Parmadale will be taken off probation - Cleveland Plain Dealer
Ex-Parmadale employee charged with rape, kidnapping involving sex with 13-year-old girl from facility - Cleveland Plain Dealer
Disability Rights Ohio staff members are quoted in reporter John Caniglia's ongoing coverage of sexual abuse and staff misconduct at Parmadale Institute in Northeast Ohio.
Law firm Steptoe & Johnson, Bazelon Center for Mental Health Law join Doe v. State of Ohio case as co-counsel

Disability Rights Ohio announces that law firm Steptoe & Johnson and the Bazelon Center for Mental Health Law, both based in Washington, D.C., have joined its Doe v. State of Ohio lawsuit as co-counsel. Their addition will help Disability Rights Ohio bring this 20-year-old case to a successful resolution for Ohio students with disabilities.
Doe v. State of Ohio, filed in 1993, seeks to enforce state officials' obligations to ensure that children with disabilities receive a free appropriate public education (FAPE) under the Individuals with Disabilities Education Improvement Act (IDEA). The plaintiffs in the case allege that inequities in and underfunding of special education results in discrimination and denial of the appropriate education of Ohio students with disabilities.
"We are excited to have Steptoe and Bazelon onboard," says Disability Rights Ohio Director of Advocacy Kerstin Sjoberg-Witt, who is also an attorney for the plaintiffs. "Their expertise in complex cases complements Disability Rights Ohio's in-depth knowledge about the problems with funding for special education in Ohio."
Steptoe & Johnson LLP is an international law firm widely recognized for vigorous advocacy in complex litigation and arbitration, successful representation of clients before governmental agencies, and creative and practical advice in guiding business transactions. The firm has more than 500 lawyers and other professionals in offices in Beijing, Brussels, Century City, Chicago, London, Los Angeles, New York, Phoenix and Washington. For more information, visit www.steptoe.com.
The Bazelon Center for Mental Health Law is a national non-profit advocacy organization that promotes equal opportunities for individuals with psychiatric disabilities in all aspects of life, including employment, housing, education, health care, community living, voting, and family rights.
Disability Rights Ohio is the private, nonprofit organization designated under federal law as Ohio's system to protect and advocate the rights of people with disabilities and as the Client Assistance Program under the Rehabilitation Act. The mission of Disability Rights Ohio is to advocate for the human, civil and legal rights of people with disabilities in Ohio.
Bills to Watch: Ohio House Bill 333

Disability Rights Ohio has joined other stakeholders in expressing concern over Ohio House Bill (H.B.) 333, which would change Ohio's laws for making claims about violations of the Americans with Disabilities Act (ADA) and its state law equivalent.
H.B. 333 will require individuals with disabilities to provide a very specific, detailed written notice about an ADA violation to the business, government agency or individual violating the law before they can take any legal action. To confuse matters, the definition of "accessibility laws" in the bill is so broad that it will conflict with parts of the ADA, possibly making businesses, developers and service providers wrongly think that they can violate the ADA as long as they have not received a written notice.
The bill intends to allow the business, agency, or individual to have six months to fix the violation. Meanwhile, individuals with disabilities would have to continue to deal with the violation without any recourse. Since it could be difficult to prove that the ADA violations have not been resolved, and Ohio lawyers won't be able to collect a fee unless the violation still exists after six months, individuals with disabilities will likely have a hard time finding legal representation to assist them in drafting and sending the written notice to even begin the complaint process.
While we understand that H.B. 333 is intended to address concerns about systemic fraud among ADA complainants, no evidence has been presented that this is occurring in Ohio. DRO is concerned that the bill's requirements will mean that individuals with disabilities will go without access to facilities and services when businesses, agencies or individuals violate the ADA and other accessibility laws.
Action and results: Case summaries
Columbus Convention Center expands service animals policy
DRO noticed that the Greater Columbus Convention Center, one of the city's primary event spaces, had a policy that limited protection of service animals to only those for people with physical disabilities. DRO wrote to the Convention Center and they agreed to broaden the policy to include service animals for people with mental disabilities, as is consistent with federal and state law.
Clients gain equal access in Stow Municipal Court
The director of a local Community Services for the Deaf contacted us on behalf of two clients (a married couple), who filed a complaint in the Municipal Court and have a hearing next month. They are both deaf and requested an interpreter for the hearing, but the court stated that would need to pay $100 for the interpreter. This would be an illegal surcharge under the ADA. Disability Rights Ohio spoke with clients and then contacted the court and the magistrate. The magistrate agreed that they should not have been charged $100 and said he would make sure they owed nothing.
Anti-ramp landlords educated on Fair Housing Act
Wheelchair-accessible ramps are a critical piece to promoting community integration for individuals with physical disabilities. DRO has helped many clients obtain access to needed facilities by facilitating the installation of ramps. Here are two examples from just the last month:
A client using a wheelchair had obtained funding through PASSPORT to install a ramp in the back of his apartment. The landlord gave verbal approval, and the ramp was installed. Then several days later, the landlord called PASSPORT and said the ramp was not approved, so PASSPORT removed the ramp and again the client couldn't get out of his apartment independently. DRO explained the Fair Housing Act law to the landlord and obtained written approval to install the ramp. PASSPORT paid to have the ramp installed again, and the client can now access the community independently.
A client with amputated legs wanted to install a ramp to his condo and was several years behind on his condo association fees because of mounting medical debt. The client's landlord tried to block the ramp installation by creating a complicated contract that the client could not sign. DRO called the landlord and explained Fair Housing Act law and obtained written permission from the landlord for the client to proceed with the ramp installation. DRO also informed the client about available insurance and government healthcare options to help manage medical costs and try to get back up to date on his condo association fees.
Disability Rights Ohio clears the way for fence for child with autism
A mother of a child with autism recently contacted Disability Rights Ohio. The mother wanted to be able to construct a fence around their home backyard to protect her child, who had autism. The fence would allow the child to play outside and prevent the child from running into the street or wandering away from home. The homeowners association in their neighborhood attempted to stop the mother from constructing the fence, telling her that the homeowners had to first vote on whether the fence would be allowed. When homeowners voted against allowing the family to construct a fence, Disability Rights Ohio explained that under the Fair Housing Act, the Board could not stop the fence from being constructed. The Board issued a statement saying that even though the homeowners had voted against the construction of the fence, they could not prevent the family from having one. The family plans to construct the fence immediately so their child can enjoy the yard.
Client's right to vote protected
An individual with a disability called Disability Rights Ohio after attempting to vote on Election Day. The voter had noticed that her polling location had been recently updated, but they did not address any accessibility issues. The front door was too heavy for the voter to open, the ramp to the front door was not safe, and there was difficultly finding accessible parking. The client also stated that there was no one to help her operate the voting machine. DRO contacted the Board of Elections and ensured that the polling location was accessible. The client was provided with assistance to enter the building and provided with the requested assistance in completing her ballot. The voter's concerns were also shared with the Secretary of State on their accessibility survey so the polling location could be made more accessible in the future.