News from Disability Rights Ohio is the monthly newsletter from Disability Rights Ohio providing information and updates about case work and activities of Disability Rights Ohio, and other disability-related news.
In this issue:
Letter to state requests systemic change for people with developmental disabilities, alignment with federal law

On July 1, 2014, Disability Rights Ohio sent a letter to state officials asking to negotiate changes in the system for people with developmental disabilities in Ohio. The letter received substantial attention in the disability community, civil rights organizations and the media. DRO has requested a response from the state by July 31.
Columbus Dispatch: Group says Ohio is violating Americans with Disabilities Act
WKSU radio in Kent: Advocacy group accuses Ohio of violating the Americans with Disabilities Act
Hannah News: Disability Rights Ohio Criticizes State for Failing to Follow Federal Law
ACLU of Ohio: Beyond Olmstead: How Ohio Segregates People with Disabilities
DRO works with trustee, service providers to safeguard home for sisters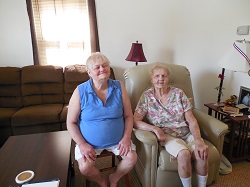 Carol and Peggy are sisters with developmental disabilities. Before their mother died, she set up a trust that included the home where the sisters grew up.f memories tied to it. The house was a critical part of their ability to live in the community with supports from their county's board of developmental disabilities.
Disability Rights Ohio (DRO) became involved after receiving a complaint about the clients' trustee from the county DD Board. When DRO investigated the complaint, they learned that the trustee had placed a mortgage on the clients' home in addition to engaging in some abusive behavior. DRO worked with the bank to release the mortgage and got them a sum of money, which they used for home improvements, including paint and new carpet. The problematic trustee voluntarily resigned and was replaced by a local attorney, Todd Rush, who agreed to act as a pro bono trustee for the clients.
"The part I play on the team that assists Carol and Peggy is a small one," says Rush. "After hearing Carol and Peggy's story and meeting them, I was happy to step into the role of trustee. Given the challenges that Carol and Peggy have to overcome on a daily basis, providing them with my pro bono services as trustee was important because Carol and Peggy were being taken advantage of by an irresponsible trustee who was using the trust assets for personal gain. I wanted to guarantee that wouldn't happen again. I would encourage other attorneys to take on pro bono cases simply because it is important for our profession to serve the communities where we live and offer our services to people who are less fortunate."
Collaboration between clients, DD Boards, service providers and community members is critical to achieve good outcomes. Together, we can make positive change for people with disabilities in Ohio.
Staff Profile: Attorney Laura Osseck applies stage skills to her law career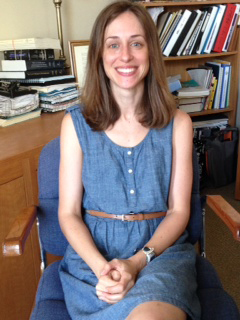 People go to law school for a variety of reasons. DRO Attorney Laura Osseck decided to go after she realized she didn't want a career in theater.
"I was a theater major in college, and afterward I went to Los Angeles to do a play," she recalls. "I learned that I don't like Los Angeles, so I started wondering what else I might want to do."
She'd thought about going to law school before, and her experience in Los Angeles solidified that she wanted a change. But, she wanted to use the skills she learned in theater, and she thought being a lawyer would accomplish that.
"The relationship between theater and practicing law is not obvious to everyone, but I think my background in theater has served me well as a lawyer," Osseck explains. "Theater helped me develop technical skills that I use frequently, like speaking in public and thinking creatively. It helped on another level as well because it taught me how to invest myself in my work, take it seriously, and have fun at the same time. I learned through theater that I wanted a career that would make me happy, and I think I found that as an attorney. I take my work very seriously, and I care deeply about my clients. I also have a lot fun at my job, and that makes me very happy."
Determining the kind of law she wanted to practice was the next challenge. She started with an internship in a small law firm, but that didn't fit, nor did a large firm. It was working in the law clinic at Case Western Reserve University in Cleveland, where she went to school, that opened her eyes.
"I practiced consumer law, working with low-income people who were victims of predatory lending," she recalls. "And doing that work was when I finally thought, 'Okay, I can be a lawyer and the kind of person I want to be.' I wanted to work with underserved populations."
Two years as an Americorps member for Legal Aid sealed it. After volunteering at Columbus Legal Aid, her supervisor told her about a position at Ohio Legal Rights Service, now Disability Rights Ohio, 3.5 years ago. It was a perfect fit.
"I love my job," she says. "I love the clients, I love the people I work with, and I love being able to see good outcomes. When we win a case, you can see very clearly that you've made a real difference in someone's life."
The case of Peggy and Carol (see story above) was one of her first assignments. It was hard to see them worry so much about the possibility of losing their home. Knowing that they can now stay in a place where they have lifelong memories is incredibly satisfying.
She's also grateful that so many people came together to help them.
"The Board of Developmental Disabilities tipped us off to the problems in the beginning, and they've been so supportive," Osseck says. "Their new trustee, the bank, everyone involved pulled together. That doesn't always happen. It's nice to know that they have people looking out for them."
U.S. Senate Committee Votes to Support CRPD; Ratification Vote Expected in Fall 2014

The United Nations Convention on the Rights of Persons with Disabilities (CRPD), otherwise called the "Disability Treaty," is an international human rights treaty currently being discussed in the U.S. Senate. The CRPD would extend rights protections like those guaranteed by the Americans with Disabilities Act to millions of people with disabilities worldwide. A broad and diverse coalition of current and former policymakers, disability advocates, veteran service organizations, and business and industry groups support the CRPD. Below are links to resource documents that demonstrate the broad support for the CRPD and further explain the benefits it would provide to individuals with disabilities in America and throughout the world.
DRO and a host of other stakeholders have been working in Ohio to educate and inform both of Ohio's U.S. Senators (Portman and Brown) on the importance of the CRPD to the disability community in Ohio. Senator Brown voted in support of ratification in December 2012 and has publicly stated his continued support for the treaty, while Senator Portman voted against ratification and has not stated publicly whether he would vote to ratify the treaty if it is brought up again for another vote. Senator Portman's support for the treaty is viewed by many advocacy groups as critical to the CRPD's ratification.
On July 22, 2014 the Senate Foreign Relations Committee successfully voted to pass the CRPD out of committee. It is expected the full Senate will have an opportunity to vote to ratify the CRPD later this Fall.
If you are interested in expressing your views on the CRPD, find the contact information for both of Ohio's United States Senators below.
CCD Business Case in Support of CRPD
The TRUTH About the Convention on the Rights of Persons with Disabilities [PDF]
Contact your Senators:
Senator Rob Portman
www.portman.senate.gov/public/index.cfm/contact-form
Washington, D.C. office
Phone: 202-224-3353
Toll-Free: 1-800-205-OHIO (6446)
Senator Sherrod Brown
Washington, D.C. office
Phone: 202-224-2315
Toll Free 1-888-896-OHIO (6446)
DRO participates in VA-hosted Welcome Home event at the Columbus Zoo

The Chalmers P. Wylie VA Center in Columbus hosted their annual Welcome Home event at the Columbus Zoo on Saturday, July 5. The event was for Iraq and Afghanistan Veterans, Veterans from all eras, Active Duty, Reserve and Guard Service Members, and their family members. Activities included live entertainment, community resources for veterans and their families and VA health care and benefits information.
Disability Rights Ohio participated in the event and provided information to attendees in the community resource area. DRO staffed the resource table and talked to many attendees about issues facing veterans returning from military conflict. Adequate housing and employment were reported as the biggest concerns, according to Peggy Meyers, one of the disability rights advocates working at the VA-sponsored event.
DRO sees outreach events like this as an opportunity for veterans and service members to understand the services DRO can provide, which are separate from the disability benefits and services provided by the VA. DRO provides services that help protect the civil rights of veterans and others with disabilities in the community. While Veterans are able to contact the VA for issues with their VA benefits, including disability benefits, it is in our priorities to help with disability-related housing and employment issues, special education issues, accessibility and accommodations at work, in post-secondary education and in public places.
If you, a family member or a friend need assistance in any of these areas, contact our intake unit at 614-466-7264 or 1-800-282-9181, 9 a.m. to 4 p.m. weekdays.
DRO in the News: Sentence given in Parmadale case

Cassondra Goodson, who had inappropriate sexual relationships with two teenage girls in her care at the now-closed Parmadale Institute, was sentenced to 44 years in prison. Disability Rights Ohio initiated the investigation that eventually led to Parmadale's closure in January 2014. Attorney Kristen Henry is quoted in this article.
Cleveland Plain Dealer: Victims' letters detail pain of ex-Parmadale aide's abuse; judge sends Cassondra Goodson to prison for 44 years
Read more about DRO's involvement in the Parmadale case: Disability Rights Ohio's investigation at Parmadale culminates in facility closure
Bills to Watch: Workforce Innovation and Opportunity Act

On July 22, President Obama signed HR 803, the Workforce Innovation and Opportunity Act (WIOA), a reauthorization of the Workforce Investment Act (WIA) and the Rehabilitation Act. The Act was approved by the House and Senate, with bipartisan support, to modernize, improve and authorize funding for federal job training and workforce development programs. While the bill includes programs that provide access to training, education and workforce development for all Americans, several provisions will have particular impact for individuals with disabilities. Perhaps the biggest impact will come from new limitations on paying subminimum wage for workers with disabilities. WIOA restricts companies from employing an individual with a disability at a subminimum wage unless that individual has already had help and opportunity to work in competitive employment. WIOA prioritizes transition and vocational rehabilitation services and requires all state and local workforce development offices to comply with the accessibility requirements in the Americans with Disabilities Act in their workforce development plans. The Act also reauthorizes funding levels for the Client Assistance Program (CAP), which Disability Rights Ohio administers in our state, and Statewide Independent Living Councils (SILCs).
Action and results: Case summaries
DRO wins appeal, increased waiver services to client
An adult who requires around-the-clock care because of intense disability-related behaviors recently received an increase in his service hours, allowing him to remain in the community. The client's parents have always provided the majority of his care, but as the parents have aged, the amount of care they have been providing either as paid providers or unpaid "natural support" was taking a serious toll on the their health and lives. They contacted DRO to request assistance to increase the client's services.
A disability rights attorney represented the client in several state hearings and administrative appeals, but the client's services still weren't adequate. Finally, after appealing to the state court, the state agencies agreed to a settlement that increased the client's services and provided more flexibility to the parents to meet their own needs while also caring for the client. Because of his increased services, the client is able to spend more time in the community, and he will be able to live in his home for the foreseeable future instead of being institutionalized.
Client receives parking accommodation from housing provider
A young adult with a developmental disability moved to a new apartment in the community. She requested a van-accessible parking space as an accommodation for her disability, but after waiting for several months for the housing provider to respond to the request, the client's parent contacted DRO for assistance.
A disability rights attorney conducted legal research and provided information and advice to the client's mother regarding the client's rights. Soon after this, the apartment provider installed signage in a parking space in front of the apartment, but the space was still not large enough to accommodate the van and ramp. The attorney discussed the client's accommodation request with the housing provider. The housing provider responded that they would be repaving and restriping the parking lot in August, at which time they would provide a van-accessible parking space near the client's apartment. In the meantime, the housing provider agreed to stripe the parking space next to the space in which they had recently put up handicapped accessible sign, giving the client two parking spaces to accommodate her vehicle and ramp.
DRO successfully negotiates for client at hearing, VR case reopened and services resume
A client was receiving services through Opportunities for Ohioans with Disabilities (OOD), but his vocational rehabilitation (VR) counselor closed his case because he was unable to find employment. He contacted Disability Rights Ohio to find out how to receive OOD services again.
A disability rights advocate discussed the situation with the client and determined he was unaware of his right to have informed choice to choose a different vendor for his job development. Because the client desired to continue to work with VR, the advocate represented the client at an informal OOD hearing, where the case closure was rescinded. The client's case was reopened with a new VR counselor and he has resumed his services and employment search.
Help us keep the victories coming! Donate online to Disability Rights Ohio
We believe people with disabilities should be allowed to participate in the community and have a say in how they live, just like people who live without a disability. There is always more to do, but we need your help.
Disability Rights Ohio can now accept donations via PayPal. You can find the PayPal button on our Donate page. Please consider making a donation yourself or come up with a creative way to raise money for our cause. Thank you so much for your support!