News from Disability Rights Ohio is the monthly newsletter from the Disability Rights Ohio providing information and updates about case work and activities of Disability Rights Ohio, and other disability-related news.
In this issue:
Executive Director Michael Kirkman reflects on DRO's anniversary as a nonprofit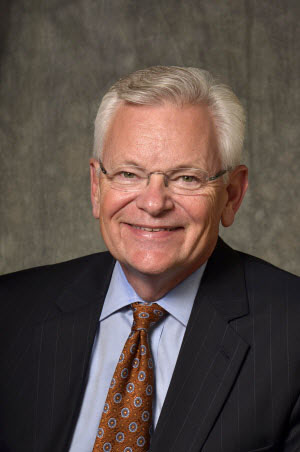 October 1 marked a milestone for Disability Rights Ohio: the completion of our first full year of operation as a nonprofit corporation. On October 1, 2012, the Governor designated DRO as the system to protect and advocate for the rights of people with disabilities in Ohio (P&A). Our staff worked very hard this year to continue the long tradition of client-directed legal and policy advocacy at Ohio Legal Rights Service, from which DRO grew, while at the same time developing our own culture and relationships to take full advantage of the flexibility obtained by transferring the P&A out of state government.
The nine-member Board of Directors, led by President Sue Willis, has met every challenge and taken a strong leadership role. In conjunction with the staff, the board developed a three-year strategic plan and finalized a new brand and outreach campaign. Fiscal controls have been strengthened and fully implemented. Strong work priorities are in place, developed in partnership with people with disabilities and their families throughout Ohio. Diverse new grants and partnerships, such as the Exchange Navigator consortium with the Ohio Association of Foodbanks, are on line and others are being considered.
Our clients benefitted because we were able to bring the dedicated and experienced staff from the state agency to our non-profit. At the same time, I have planned for some time for inevitable turnover as some here approach retirement or decide to move to other positions. New hires have been made with that concern in mind, and the next generation of dedicated staff is here and being trained and mentored. It's exciting how many of the newer staff are people with disabilities, who bring a critical perspective to our work and our life as a workplace.
Recently, the planning was tested as we lost the services of Sue Tobin, Chief Legal Counsel, and Beth Oberdier, Senior Advocate. Both Beth and Sue left the agency to take on other challenges. We honor them for their extraordinary dedication and efforts toward enforcing the rights of children with disabilities.
Even as we recognize the work of Sue and Beth, "eternal vigilance" is still the standard to which we strive and to which we are held, and the work goes on. The issue teams on which they participated, teams that include our next generation of exceptional staff, have continued their efforts. Whether it is implementing the ODE restraint and seclusion rule; litigating the Doe v. Ohio special education funding class action lawsuit; or the ongoing remediation of serious abuse and chronic neglect at Cleveland's Parmadale Institute, people with disabilities in Ohio deserve no less.
DRO helps veteran Kohler stand up for his employment rights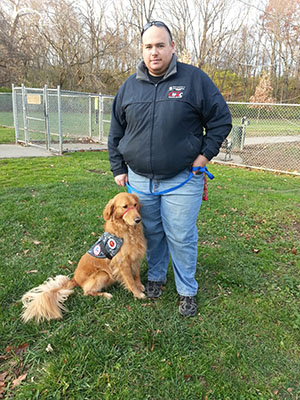 Veteran Jeff Kohler knew his rights. As a Navy veteran with disabilities ranging from traumatic brain injury to arthritis in his back from wearing body armor for a year, he knew that his employer was required to allow him to go to the Veterans Administration for medical appointments. He also knew that his service dog, Crozer, was allowed to be by his side.
His supervisor, however, didn't know these things, and no one at the company where he worked as a logistics contractor had put his needed accommodations in writing. When the situation began to get tense with no help from human resources, he called his veterans services coordinator, who put him in contact with Disability Rights Ohio.
After several unsuccessful attempts by DRO to get in touch with Kohler's human resources department, DRO staff used their connections to reach out to Senator Sherrod Brown's office, and the logjam was broken. The vice president of Kohler's company called him to apologize, and all the accommodations he needs to be successful at work were documented and put in place. Kohler now feels free to go to his medical appointments, and Crozer is welcome in the office.
"Due to the varying nature of my disabilities, Crozer helps me when problems arise and helps negate them," he says. "He's trained to pick things up for me, so my back injury isn't constantly irritated, which lessens the amount of medication I have to take. Crozer has improved the general quality of my life and that is important to me."
Kohler got some additional good news when he was offered a permanent job with the federal government instead of working as a contractor. Now, he won't have to worry about having to worry about contracts expiring. He has a message for other veterans who might find themselves in a difficult situation at work when it comes to their disabilities.
"I want them to know that they have rights and to stand their ground when it comes to getting taken care of and maintaining employment," he explains. "And that if they have issues, to first use the chain of command within their employer and if that does not work, Disability Rights Ohio can assist."
Staff Profile: Listening is key for Senior Advocate Peggy Meyers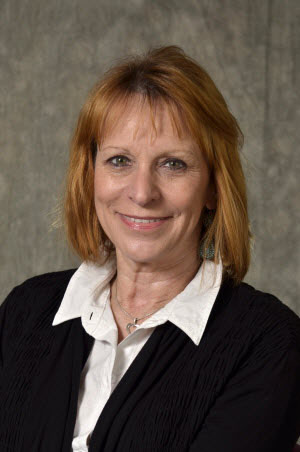 Senior Advocate Peggy Meyers has dedicated her career to helping people who are marginalized, abused or neglected, and she wouldn't have it any other way.
Meyers served six years in the Army, five of those years in active duty and one in the Guard. The personnel work she was assigned put her in a place to help people, serving on the Race Relations Council and assisting women in the unit as they acclimated to military life. When she left the military, she knew advocacy was the kind of work she wanted to continue to do.
So, she went to Ohio State University, where she majored in social work and minored in psychology.
Meyers found that she was drawn to the cases other people might shy away from. She worked with families of very young children at Children's Services and in the Emergency Services Department at Southeast Mental Health. She also supported victims of domestic violence and helped set up the State Prosecutor's Stalking Unit to help victims of that particular kind of crime. In addition, she trained police officers to respond appropriately to these incidents.
In 2000, she came to Ohio Legal Rights Service, now Disability Rights Ohio, and focused on advocating for people with mental illness. It's her favorite kind of work.
"I feel like not enough attention is given to people with mental illness," she explains. "They're marginalized, misunderstood and misdiagnosed. Most of the time, no one has ever really listened to them before. It's amazing what can happen when you just listen to people."
She's also worked with children and adults with traumatic brain injuries, Post Traumatic Stress Disorder, and currently, disability-related problems with employment. Often, her clients also have a mental illness. It can be difficult, but she loves it.
"After all these years, I'm still excited to do this work," she says.
New Publications from DRO

As families gather for the holidays, it's important to keep watch for signs of abuse, neglect and exploitation of loved ones who live in nursing facilities. Disability Rights Ohio has produced two new fact sheets that can help people recognize the signs of abuse, neglect and theft, and understand how to report it.
Frequently Asked Questions: Reporting Abuse and Neglect in Nursing Facilities
Protecting Yourself from Theft in Nursing Facilities
Disability Rights Ohio's advocacy efforts led the state of Ohio to create a program called Recovery Requires a Community, which aims to move 1,200 people with mental illness out of institutions and into the community in the next year. This fact sheet answers many questions about the program.
Frequently Asked Questions: Recovery Requires a Community
DRO in the news

Disability Rights Ohio was featured in two television news stories this month:
Waste Watch: Ohio Medicaid Money Misspent - ABC Channel 6 News, Columbus
Dale Kennison, 52, spent five months in a nursing home because Medicaid would not pay for the use of a wound vac at Kennison's home. Reporter Brooks Jarosz interviews DRO Assistant Director Kerstin Sjoberg-Witt.
NewsChannel5 Investigates: Neglect and abuse of Ohio's disabled slips under radar - ABC Channel 5 News, Cleveland
In this three-part report, Investigative Reporter Ron Regan uncovers a significant lack of oversight of home healthcare businesses and their employees by the Ohio Department of Developmental Disabilities. State Senator Michael Skindell is proposing legislation to try to close these gaps in protections. Disability Rights Ohio Executive Director Michael Kirkman is interviewed.

HEAP program may help you stay warm this winter

Temperatures are getting colder in Ohio, and many people on limited incomes struggle to pay their heating bills. Ohio's Home Energy Assistance Program (HEAP) can provide assistance to qualified families once per heating season.
Find out more about the program, including income qualifications, on the State of Ohio's Energy Assistance Programs website.
DRO answers some Frequently Asked Questions about the UN Disabilities Treaty

The Convention on the Rights of Persons with Disabilities (CRPD) is a United Nations (UN) treaty that addresses disability rights and uses the same values as the Americans with Disabilities Act (ADA) to improve rights for people with disabilities around the world. The CRPD would also improve access for Americans with disabilities who live, work or travel abroad. More than 600 U.S. disability organizations, 22 veterans' organizations and 39 faith organizations support the CRPD, however, there has been some confusion about what the treaty would do. We've provided a quick FAQ to help you better understand the CRPD.
Q: Does the CRPD infringe upon U.S. sovereignty?
A: No, the ratification of the CRPD will not result in any international authority over U.S. law. In fact, with ratification, the U.S. can adopt Reservations, Understandings and Declarations (RUDs), which ensure that the U.S. does not give up any legal authority.
Q: Will the CRPD change the definition of "disability?"
A: No, the CRPD offers a broad framework of values that countries can use to make their own laws.
Q: Will the CRPD put a UN Committee of experts in charge of U.S. law?
A: No, the UN committee can only provide advice and make recommendations. The U.S. is not required to follow any of the committee's advice. Ratification of the CRPD will allow the U.S. to participate in the discussion about disability rights globally, however.
Q: Will the CRPD harm the rights of parents with children with disabilities and impair the right to homeschool?
A: No, the CRPD actually states "(i)n no case shall a child be separated from parents on the basis of a disability of either the child or one or both of the parents." In other words, the CRPD protects parents' rights.
Q: Does the CRPD endorse abortion rights and abortion funding around the world?
A: No, the CRPD does not address abortion or other health practices. Nations that outlaw abortion and nations that permit abortion have signed on to the CRPD. The CRPD simply asks that health procedures provided under domestic law are to be provided to individuals with disabilities on a nondiscriminatory basis. This is already guaranteed under U.S. law. The treaty does confirm the value that every person with a disability has the right to life.
The Senate may vote on the treaty again in December. If the CRPD is an issue that you care about, contact your Senators to let them know how you feel.
Action and results: Case summaries
Student's parking problems solved with assistance from DRO
A student with an orthopedic disability now has a designated parking space at her apartment complex. The student requested a parking spot on the first floor of her parking garage as a reasonable accommodation from her landlord, the university where she attends school. Although she received permission to park her car on the first floor, the spaces were full when she returned to the complex, requiring her to park some distance from her home. The student contacted Disability Rights Ohio for assistance in getting a designated parking spot. A staff attorney worked with the client and the university to successfully negotiate a designated parking space for the individual.
Client can work, go to school thanks to transportation, personal care services
A client with a physical disability was told that he could not utilize transportation and homemaker/personal care services under his individual options (I/O) waiver to enable him to go to work and attend his college courses. He was told that he could only use supported employment services and corresponding non-medical transportation services to do so. Because such services have capped funding levels that would not provide enough funding for the services he needed, the client was effectively precluded from working and attending courses. The client contacted DRO to receive assistance so he could maintain his employment and attend his university courses.
A staff attorney requested information from the county board regarding their reasoning for the client using supported employment services rather than his homemaker/personal care (HPC) aide services under his IO waiver. The attorney also conducted legal research, provided information to the client regarding his rights and remedies, and asked the county board to show a rule that prohibited use of HPC services at work. The county board looked into it and agreed that Ohio law did not preclude HPC services from being used in such a way, and the client was told he could use HPC services at work and school. Client is now going to school and work with appropriate services.
Columbus Zoo makes accommodations for wider wheelchairs on train
A young woman was denied a train ride at the Columbus Zoo earlier in the year, but the next time she visits the zoo she'll be able to enjoy the train with her family and other zoo visitors. Her parents contacted DRO for assistance after their daughter, who uses a wheelchair for her disability, was denied a ride on the North American train at the zoo because the train could only accommodate standard-sized wheelchairs; her wheelchair was wider.
A DRO attorney spoke with the source multiple times, conducted legal research and provided information on the client's rights. The attorney also contacted the zoo's director of rides on the client's behalf. During the phone meeting, when they determined the denial was due to the train's features only allowing for a standard-sized chair, the attorney successfully negotiated with the zoo director, who agreed to make the train accessible for wider wheelchairs. The train was retrofitted to accommodate all sizes of wheelchairs.
DRO helps parent advocate for her daughter's services
An adult with an intellectual disability who has always been cared for by her parent in her parent's home was found not eligible for services by a county board of DD. The source disagreed with the decision and wanted to file an appeal.
A DRO attorney spoke to the source several times, providing information and advice regarding an appeal of the county board's decision. The attorney also provided information on Medicaid waivers and advised the source to request to have the client enrolled or placed on the waiting list for such waivers. The source met with the DD county board on behalf of her daughter and discussed the request for services that had been denied and what the source disagreed with in the client's evaluation report. The county board decided to re-evaluate the client's need for services, finding her eligible for county board services. The client is also now on the waiting list for the Individual Options and Level One waivers.
Help us keep the victories coming! Donate online to Disability Rights Ohio

We believe people with disabilities should be allowed to participate in the community and have a say in how they live, just like people who live without a disability. There is always more to do, but we need your help.
Disability Rights Ohio can now accept donations via PayPal. You can find the PayPal button on our Donate page. Please consider making a donation yourself or come up with a creative way to raise money for our cause. Thank you so much for your support!