#AdvocacyMatters: 2022 Wrapped
December 16, 2022 / #AdvocacyMatters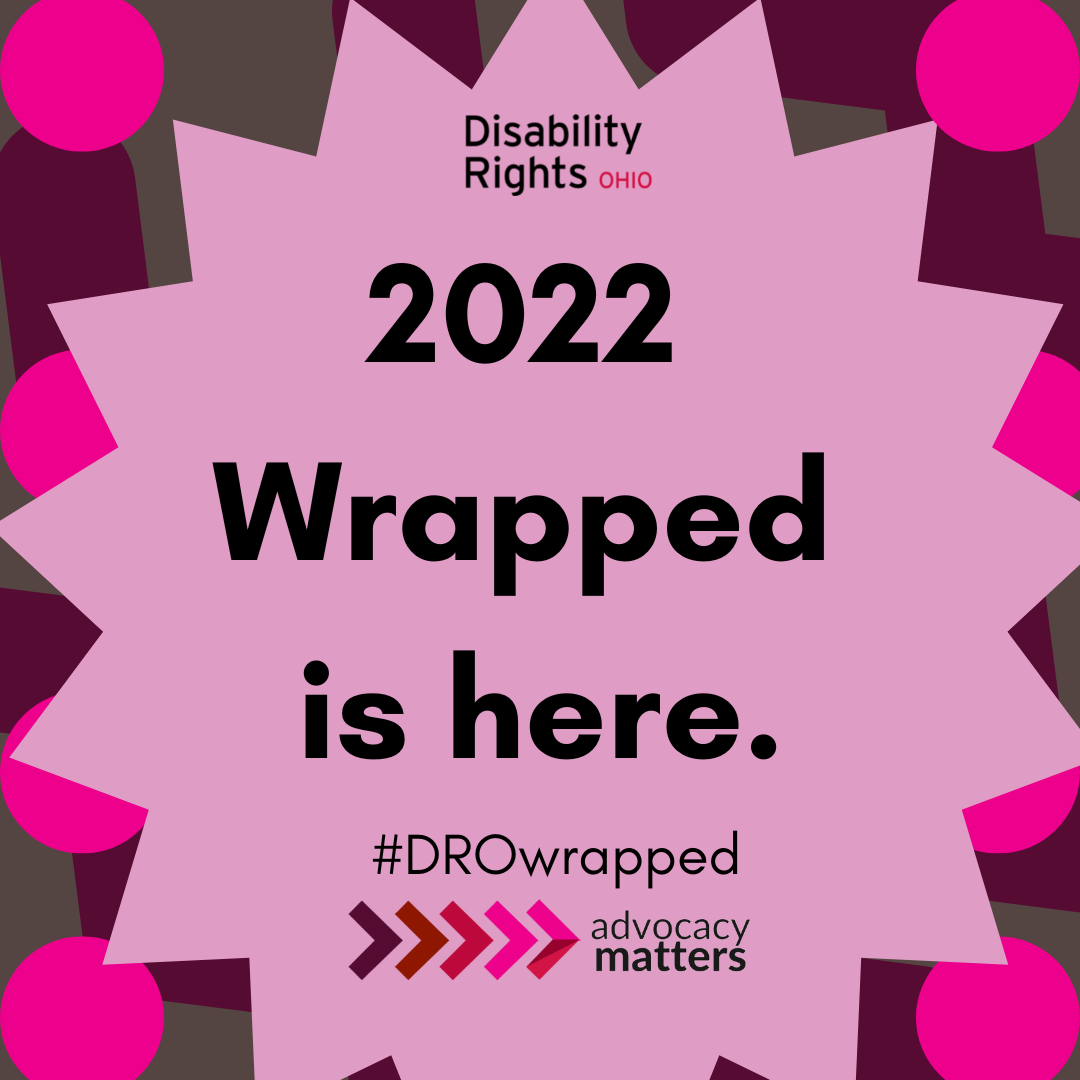 As the wild, bright, and sometimes tumultuous year that was 2022 comes to a close, we wanted to take some time here at DRO to celebrate our wins. A new favorite tradition in today's pop culture is to share your "Spotify Wrapped", or the best hits you listened to in 2022. People of all generations and backgrounds delight in sharing the music and musicians their ears enjoyed the most that year, including streaming statistics and other fun analysis. At DRO we love disability rights as much as we love music, so sit back and get comfortable because DRO's 2022 Wrapped is ready for you to press play.
From sunrise to sunset, we stayed busy. The beginning of this year gave us one of the greatest hits of our work so far, the resolution of the Landmark Class Action Lawsuit, Ball v. Dewine in January 2022. The end of this era marked great strides in freedom of choice and alternatives to living for disabled Ohioans, and we are so proud to have been a part of it.
In March, we seized the day. We got to congratulate a past client and friend of DRO, Jordyn Zimmerman, for her appointment to the President's Council for People with Intellectual Disabilities. We also continued our goal to uplift the voices of disabled Ohioans with multiple intersectionalities in continuing policy advocacy in terms of police crisis response.
May gave us the successful release of our guide, "RISE UP", giving practical and sustainable tips for transition age youth. This month also gave us a successful day of advocacy partnered with the Ohio Olmstead Taskforce, which would become the blueprint and motivation for our 2022 Congressional Visits.
In June we had a roller coaster of emotions, bouncing from embracing the night to a mournful morning. The beginning of the month gave us all a mood boost at the first ever DRO Comedy Show, "Don't Call it Standup", which was a major success and already in the works as an annual event. From laughing in community to fighting back, the end of the month gave us the SCOTUS decision of the overturn of Roe v Wade, a reminder that tools of oppression are always at play.
This pushed us forward with clear minds into the summer and fall, where we participated in a People's Safety Forum and began the launch of one small part of our fight of in the Direct Care Workforce Crisis with our new series, "#EveryoneDeservesCare.
September brought us our favorite hits—the Job and Disability Resource Fair and the 2nd Annual Duck Derby. Both of which, helped to strengthen and cultivate our connection with our community. Even more, the end of the month gave us a small win with the introduction of HB 716 to eliminate subminimum wage.
The end of this year brought us a new mission, vision and values. Taking everything we learned from throughout our advocacy and in listening to our clients, we were able to craft a more focused and improved way to talk about the work we do. Here we saw the re-write of our vision in some of our best lyrics to date: Voices elevated. People empowered. Equity achieved.
Our year can't be contained in one post, but we tried anyway. We didn't get to mention the chorus of advocates—who strive to make our organization stronger. Let's not forget our greatest fans: our supporters, the many disabled Ohioans and those who assist them that cheer us on every step of the way.
As we move forward into 2023, we can't wait to see what new genres of disability justice we have in store. We hope you have a restful outro of 2022 and can settle into a year well-lived the same way that you do your favorite music, feeling comfort that #AdvocacyMatters and looking forward to what's to come. Thanks for spending 2022 with us!
Make a Donation
Please give. To the best of your ability.