#AdvocacyMatters: Broadening Our Impact
June 3, 2022 / #AdvocacyMatters
The journey to effective advocacy is often fraught with landmines and barriers for many oppressed communities. As we've moved forward, DRO has committed to bring more communities and advocates into the fight for disability justice. Making our resources more accessible is vital to this work, and we wanted to take some time today to share some of the new ways we are highlighting that commitment.
At the beginning of this year, we began work on implementing a new accessibility tool, which became effective last month. If you're on our website, you can see this tool on the bottom left as you read this #AdvocacyMatters.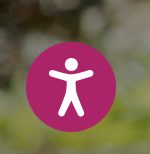 Some of the accessibility adjustments possible with this tool include profiles for seizure safety, for visual impairment, or adjustments to color contrast and orientation of the webpages. These are added to the list of more common adjustments for screen readers or for people with cognitive disabilities.
Another highlight of this commitment is within the expansion of posts and resources in other languages, specifically in Spanish. While we do offer other languages for those reaching out to our intake team, we've realized the significant need for more public social media posts and resources in Spanish. We are happy to have bilingual teammates and partners that help us to translate documents and resources, and are excited to continue to make translation a daily part of our work.
Finally, we have been in the process of updating all of our webpages, starting with one of our most important - the Public Policy Resource Center. This page is crucial to our efforts, and before the recent update had not lived up to its broadest impact. While this page has always had vital information, we are hoping to move away from only information and into more engagement. We are hoping that it is now not only a more accessible page, but one that disability advocates can find as usable, not just stagnant with resources.
As with all accessibility challenges, things may never be perfect. Perfection does not make progress, but trying new things does. Our team continues to work on other initiatives in accessibility that aren't yet fully prepared. We are looking forward to hearing more from the communities we serve to continue the conversation around what disabled Ohioans need to take up their fight. Please let us know in the following form of your feedback to these three tools and initiatives.
Because #AdvocacyMatters, your voice in our planning and implementation is our most vital asset.
Make a Donation
Please give. To the best of your ability.