Disability Rights Ohio Releases Illustrated Children's Book for Kids in Ohio's Residential Treatment Facilities
September 28, 2018 / Residential Treatment Facilities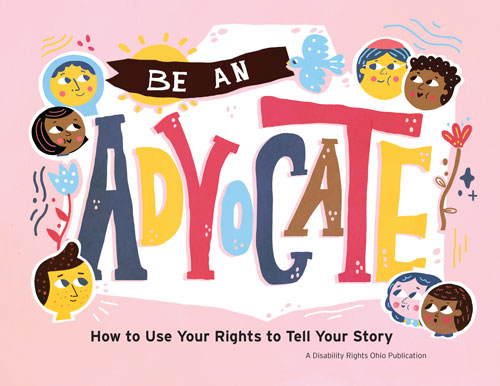 Disability Rights Ohio is excited to release Be an Advocate: How to Use Your Rights to Tell Your Story, a new resource created specifically for children living in residential treatment facilities (RTFs) licensed by the Ohio Department of Mental Health & Addiction Services (OhioMHAS) throughout the state. The 44-page full-color illustrated book outlines the rights these children have under Ohio's Administrative Code in easy-to-understand language and provides a step-by-step guide to the state's grievance and appeals process. DRO thanks the Ohio Attorney General's office for providing a Victims of Crime Advocacy (VOCA) grant and OhioMHAS for their partnership on the project.
To create the seven diverse characters in the book and their fairy-tale-like setting, DRO hired professional illustrator Cailey Tervo, a 2016 graduate of the Columbus College of Art and Design who also has disabilities. Consulting writer Kelly Baas, LCPC, MA Expressive Arts Therapy, assisted with creating the book's child-friendly language. Children living in OhioMHAS-licensed RTFs were also consulted throughout the process to ensure that the publication would resonate with them.
As part of the grant, DRO will now travel to all 33 such RTFs to train children and staff members about how to use the book. Copies will be provided to all residents.
"One of our staff advocates saw a real need to make these rights more accessible for children so they can better advocate for themselves in residential care," says Michael Kirkman, Executive Director of Disability Rights Ohio. "As far as we can tell, an illustrated children's book of this kind has not been done before anywhere else in the country. We are proud of this book and hope that the advocacy skills they learn from it will serve these children well for the rest of their lives."
Make a Donation
Please give. To the best of your ability.