#EveryoneDeservesCare: Cara and Corey
August 8, 2022 / #EveryoneDeservesCare
Cara became an advocate for disability rights because her oldest son Corey, 24, has Cerebral Palsy. While she is very active in her advocacy, her main role is providing Corey's daily care.
"He is very happy, he loves people, he loves to be active. He loves to be outside, he loves his dogs, his brothers – he likes to be with people," says Cara, describing Corey.
Corey leads an active life that includes activities such horseback riding, skiing, Special Olympics bowling, baseball, kickball, and TOP Soccer. On road trips, he has travelled with his family to 46 states and 5 Canadian provinces. They often go hiking on their travels.
Corey was authorized skilled nursing services shortly after he was born, covered by Medicaid. He is non-verbal, in a wheelchair, and has limited communication. He has many diagnoses and medical requirements related to his extreme prematurity and Cerebral Palsy including a g-tube, ventricular shunt, seizure disorder, asthma, dysautonomia, and a neurogenic bladder requiring bladder irrigations and catheterizations. Because of Corey's conditions, he requires skilled care and close monitoring.
However, Cara reflects, "If I looked back over time, I would say we've never had the hours he has been authorized staffed."
Because of the difficulties Cara and Corey have faced in getting nursing shifts covered, she eventually turned to independent providers for a time. However, these posed their own challenges as there were many rule and rate changes. This led to difficulties for independent nurses that caused many of them to move to agencies.
Cara's struggles to maintain nursing for Corey continue today. Corey is authorized to receive 320+ hours of care a month, but right now he is only receiving an average 30 hours a week. Currently, they are working with two agencies and getting one nurse from each agency. Neither agency can provide them with backup if a nurse cannot work a shift. Due to COVID and other health-related issues, in the past seven weeks one of the nurses has only worked a single shift. The other nurse typically comes for eight hours, three days a week. The agencies are trying to hire with little to no success. Cara highlights the barriers agencies face when hiring because of the nature of direct care work, training requirements, and low wages.
Corey aged out of school right before COVID, which has made his care more difficult. While he was in school, he was able to be more active and was out of the house five days a week. Nurses at school were able to provide his medical care.
"Our story would be… he's aged out of school, and we are just not getting the support we need in the home and for him to go to day programs"
When school ended for Corey, Cara started looking into adult day services, and two were identified as appropriate after looking at fourteen providers. Corey attended a combination of two programs for 6 weeks before the providers were closed because of the spread of COVID. Only recently have the programs opened enough that Corey can attend two days a week, but Cara would ideally prefer that he go more than that. However, she believes going more than twice a week right now would be difficult, as he is often without a nurse to attend with him. Corey is attending a new program as the two he previously attended do not have the capacity to take him back after COVID. Corey is being impacted not just by the shortage of nursing but that shortage of adult day program workers.
In the past, often months will go by where Cara and Corey received no help from direct care workers. Because Cara is a stay-at-home mom, she was told that she was not a priority, and nurses would often be pulled from Corey's care and given to families where one of the parents cannot stay at home. While Cara is understanding of this, it still poses a significant challenge.
At some points, she would stop trying to get help from additional agencies. "It was more trouble than it was worth for me to stop everything and try to train a new person again, than to just do it myself," says Cara. Especially if she spends days training someone and orienting them and then they don't end up working any shifts. The shortages of staff leave no nurses to orient new nurses to a case.
Cara acknowledges that she has help from her husband, but he works full-time and has previously travelled as a part of his job. Her other two sons also work and are not always available to help.
If Cara has to run errands or leave the house, she typically has to take Corey with her, and she would prefer it if he could instead be doing an activity that he enjoys.
Cara wishes that people understood the impact of having direct care workers coming and going on the people they are caring for as well as their families. She describes it as a strange experience to have someone constantly in your home that you don't know. She also highlights the impact on Corey's privacy and comfort as he receives his medical care from various nurses due to the high turnover rate.
Cara loves her son but describes her lifestyle as somewhat restricted. Given his age, she finds herself frustrated when people talk about needing time away from their kids, and thinks to herself, "We've been away from Corey together four times in 24 years. There is just no help."
And, in turn, Corey's lifestyle is restricted when he does not have full access to activities in the community and limited social interactions when he does not have required staffing.
Recently, Cara has been certified as an Ohio Shared Living (OSL) provider. Because her son is over 18 and has an IO waiver, she gets paid a daily rate for his care. She also runs a small jewelry business. While Cara would have liked to be able to work more since Corey's birth, she has been unable to as her daily life is fully consumed by Corey's care. In addition to Corey's hands-on direct care there is a lot of ancillary support Cara provides. This includes managing his health care (medication, supplies, appointments, and insurance) and his general care (laundry and equipment).
Currently, Cara can provide all of the care that Corey requires, including his medical needs. However, Cara is concerned for the future. When she gets older and is no longer able to care for Corey, she would ideally like him to be able to stay in their house with full time nursing. Corey has always led a very active life engaged in the community, and he would lose all of that if he was forced into an institution.
However, currently it's hard to imagine a world where full-time nursing to support independent living is available.
"I look at what we get today and I think, how could that possibly ever happen?" She goes on to say, "There is a shortage, and it is impacting him, and it impacts us every day… in my opinion there has not been enough staffing from a private duty nursing standpoint as authorized his whole life."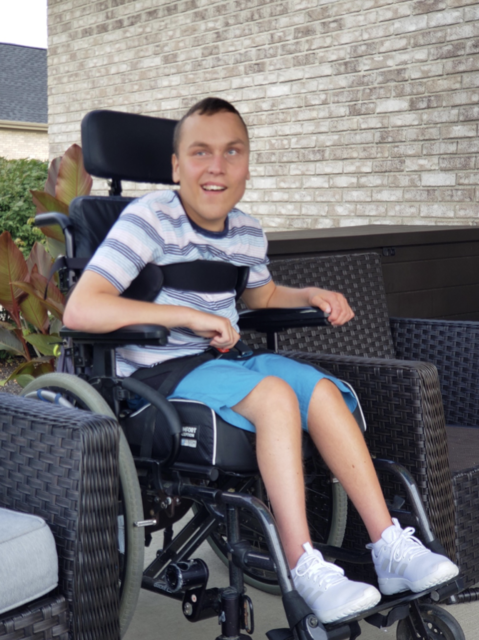 #EveryoneDeservesCare shares real stories from disabled Ohioans that have been affected by the Direct Care Workforce Crisis in order to educate the population and those in power to make change on the dire nature of this issue. Direct Care Workers are people who provide home care services, such as certified nurses, home health aides, personal care aides, caregivers and companions. Factors contributing to a lack of care for disabled Ohioans range from low-pay, inadequate incentives to remain in a care field, and lack of sufficient funding for service systems. Due to the impact of the crisis, disabled Ohioans have gone without their basic needs and wants being met for years. Many have either been forced into nursing facilities or other institutions or have endured a lower quality of life and risks to their health and safety.
If you would like to share your story for this series, please fill out this survey https://www.surveymonkey.com/r/EDC-ShareYourStory
All stories and information published in this series have been shared with explicit consent.
Make a Donation
Please give. To the best of your ability.